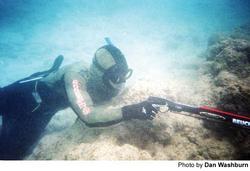 June 6, 2002 — He is a predator of the sea, lurking deep beneath the surface, hiding inside cracks in the coral reef, waiting for dinner to swim by.
But Wendell Ko does not have gills. He cannot breath underwater. Although, at times it seems like he can.
Ko is a Hawaiian spearfisherman. He is also a freediver, which means when Ko plummets 100 feet into the Pacific to hunt a 100-pound fish, he does so with no scuba gear strapped to his back. The only oxygen tanks he travels with are his lungs.
"When you grow up with it, it just becomes natural," said Ko, 41, of Pearl City, a suburb of Honolulu. "If I'm stressed out at home or work, I go in the water for a couple hours of diving. It just totally relaxes you. It's a different world. It's amazing what the ocean can do."
I saw just what the ocean can do May 19. Ko and his 16-year-old son Justin let me tag along as they competed in the Chop Suey Meet, a spearfishing tournament put on by Alii Holo Kai, one of the top freediving clubs in Hawaii.
We met at Haleiwa Beach Park on the North Shore of Oahu at 7 a.m. After the divers were split into teams, the pairs headed off in cars and trucks in search of the piece of the Pacific that would yield the most fish.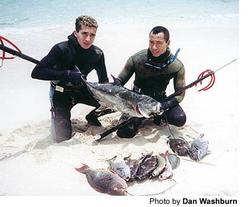 We were told to be back by 1 p.m. for the weigh-in. The meet works on the honor system. Divers are expected to head into the ocean for their catch, not across the street to the painted sign labeled "Fresh Fish and Fillets."
The Kos and I traveled west and ended up setting off from the sandy shoreline behind a YMCA camp close to the northwestern point of the island.
Wendell Ko knows all the hot spots. He's been spearfishing the islands for 30 years. In middle school, he went without lunch for a month and used his meal money to purchase his first snorkel. His first spear gun was fashioned out of a cue stick.
Ko started spearfishing competitively in the 1980s and in 1999 he captained the Hawaiian team that won the U.S. national championship in Islamorada, Fla.
The fish caught in the Chop Suey Meet were sold in Honolulu the next day. The funds raised will help send this year's Hawaiian spearfishing team to nationals in California.
Ko outfitted me with everything for my maiden voyage. Wetsuit and gloves. Snorkel, mask and fins. He even handed me a spear gun and showed me how to load and reload the shaft. That was a skill that ended up going largely unused.
No use holding a gun if you can't hold your breath.
On our way to the water, we passed a sign that read, "No Swimming: Dangerous Current." I was the only one who seemed to take notice.
Spearfishermen have other worries … worries with sharp teeth. Ko said that he encounters sharks on every other dive — they can smell the blood of recently speared fish from miles away.
Every other dive? I asked Ko whether he saw a shark his last time out. He had, but somehow that didn't ease my concern.
"I've never seen the movie 'Jaws.' If I did, that would probably mess me up," Ko said, adding that spear guns can come in handy when a shark is circling.
If a spearfisherman does die in the water, it's usually not due to a shark. A phenomenon called "shallow water blackouts" can strike even the most experienced freedivers.
It often happens less than 15 feet from the surface. Expanding, oxygen-starved lungs literally suck oxygen from the diver's blood. The result is unconsciousness, and typically death.
Ko came close during a competition in 1996. After several deep dives, he stayed under too long, trying to catch a particularly crafty fish.
"I came up and I was all tingly," Ko said. "Everything turned black and white. I didn't know which way was shore and which way was out. I literally had to talk to myself."
We swam roughly 300 yards from shore, through the breaking waves to where the water was slightly less choppy. Because this was a competition designed for novices, we stayed in the shallows. The water was only 20 feet deep.
Out there, I could make it to the bottom OK. But by the time I did, my lungs were telling me that it was time to leave. But not Wendell and Justin.
No, they stayed down there and made themselves at home, for minutes at a time. I suppose the best way to catch a fish is to act like one.
Spearfishermen are truly underwater hunters, using coral boulders as cover, tracking their prey. Sometimes divers make grunting noises to call in fish. Most kills happen at close range.
"The guy who knows the fish better, will catch more fish," said 58-year-old Alii Holo Kai member Dennis Okada, noting that many fishing "secrets" are kept within the ohana, or family.
"I feel it's the most selective method of fishing there is. Because you see what you are getting. You are not catching something you don't want to catch. You don't go out and shoot everything in sight."
Ko "selects" most of his fish at 60 feet or below. The deepest he has gone is 130 feet, the mere thought of which makes my eardrums bleed.
The first time you sink to 60 feet, Ko said, all the pressure feels like a simultaneous choke and Heimlich maneuver.
"But as you continue to dive those depths, your body gets used to it," said Ko, who has speared several fish that weighed more than 100 pounds. "So you don't feel the pressure any more. It's amazing what the human body can do."
I shot my spear gun once. And it was not a graceful attempt. It was a sloppy afterthought, a pull of the trigger on my way back up for a breath of air. The target was no fish in particular, just a school way out of range.
The sharp shaft, which is tethered to the rest of the gun, struck some coral and stuck there. At the surface, I tried to hold on, but the gun kept pulling me back under. I eventually had to let go. Justin went back down and got the gun for me.
Still, with two first place finishes, the Ko-Washburn team fared fairly well. We killed 10 fish between us. Wendell had five. Justin had five.
And I speared the rest.
Contact Wendell Ko by e-mail or visit www.freedivehawaii.com.