Mississippi 'masters' lure lunkers … using only their hands as bait
June 13, 2002 — Mike Willoughby emerged from the mud-brown Mississippi water as if he were part of a river baptism, as if the very spirit of the Holy Ghost had taken possession of his being.
But Willoughby didn't come up from the Big Black River singing. He didn't say, "Hallelujah."
Instead, Willoughby grimaced and grunted. He appeared to be in pain.
"He come up and bit me and twisted off," the 33-year-old paint contractor from Jackson, Miss., said before groaning again. "Felt like a good fish."
Then, Willoughby took a deep breath and disappeared into the water again. He was trying to coax a giant flathead catfish into biting his hand.
After his third dunk into the drink, Willoughby spit water, gasped for air and warned us again that the fish was "a good 'un."
"Alright, I'm fixin' to come out with him," Willoughby announced before going under a final time.
I suppose I shouldn't have reacted with so much shock when Willoughby struggled to the surface with a 53-pound creature in his arms. I mean, I had seen photos and read accounts of men fishing for colossal catfish using only their bare hands. But I always remained skeptical.
Even after Willoughby lugged his leviathan to the boat and placed its still spasmodic body into a cooler, part of me — the logical and rational part — questioned the validity of the whole venture. To the uninitiated onlooker, what goes on under the cover of muddy water is a mystery.
Perhaps it was a trick, I thought. Willoughby was the magician and the Big Black River was his big black hat.
But the monstrosity Willoughby removed from the river was far from cute and cuddly. It was slimy and prehistoric and ugly as sin. It looked like Edward G. Robinson … hit in the face with a shovel.
I stared, and the fish stared right back. Its wicked-looking whiskers wiggled with each dying breath.
This was most definitely real. And, I realized with mounting misgivings, I soon would be asked to stick my hand in the mouth of one of this catfish's cousins.
For nearly three years, I have tried to pin down a story on the fishy type of fishing known as handgrabbing, noodling, grabbling, grappling, stumping, hogging or dogging, depending on what part of the country you're in.
Two summers ago, a gentleman named Bubba said he'd help set up a handgrabbing trip for me on the Savannah River in eastern Georgia (which, like most states, considers fishing by hand illegal). But Bubba didn't come through.
Last summer, I thought I'd be grabbing in southern Tennessee, but my contact wasn't able to track down the grabbers along the river banks like he thought he'd be able to. And, he said, none of the grabbers had telephones.
I began to suspect handgrabbing was a myth, a colorful part of Southern folklore, the equivalent of snipe hunting — a well-orchestrated hoax designed to make me look like a fool.
But that was before a reader e-mailed me the link to mississippihandgrabbing.com, before I spoke to Gerald Moore on the telephone, before I drove 450 miles just so a giant catfish — or two, or three — could bite down on my hand.
"Oh, it's for real. Trust me," said Moore, 56, known around Jackson as "the master," although he claims the nickname is more for his carpet-cleaning skills than his expertise as a handgrabber.
We were riding in Moore's truck on a back road west of Jackson, towing his johnboat to a remote private put-in along the Big Black, a tributary of the Mississippi River. In the backseat sat Preston Pittman, a world-champion turkey caller from nearby Canton, who was tagging along to videotape footage for an outdoors television show he hopes to launch in 2003.
Moore turned to me and, with the booming bass of a barker for a carnival freak show, said, "What you're going to see today will fascinate you."
Moore, of Madison, owns a carpet cleaning business now, but at various points in his life has been a police officer, a moonshine runner, a Harley-Davidson rider and a country singer. When I met him, he wore faded overalls and a faded blue T-shirt.
The American flag bandana he tied around his head drew attention away from his bright white beard. Moore could easily win an Uncle Jesse Duke lookalike contest, and I wouldn't be surprised if they still have that sort of thing in southern Mississippi.
When Moore showed up at my motel at 5:30 a.m. June 1, he told me he was up late the night before chasing after his three-legged dog. He caught him about a half-mile from the house.
Moore didn't look or act like a man who owned a computer, let alone a Web site. But it's at mississippihandgrabbing.com where you can buy "A Rare Breed … The Masters of Handgrabbing," the video Moore made with friends Willoughby, Keith Lane and Ricky Liles.
Mississippi is the world's leading producer of farm-raised catfish. And Moore believes the state is likely the world's leading producer of handgrabbers, as well.
"Of course you have to bear in mind, we're a bunch of rednecks here," Moore said.
The weekend before I arrived, a crew from CNN came out to go handgrabbing with the self-proclaimed masters.
"We've had all kinds of national attention," Moore said. "We've been on the NBC 'Today Show.' Turner South plays it about near every week. CNN? You can't get no bigger than that."
Folks are just plumb fascinated by handgrabbing which, by my count, is only legal in five states: Mississippi, Alabama, Louisiana, Oklahoma and Tennessee. But I doubt people in the other 46 states really care. Handgrabbing isn't at the top of many to-do lists.
"It takes a special person to go in there and do it," Moore said. "Not that I'm a bad Joe or anything like that, but you've got to have that certain …"
Moore finished his thought with a powerful grunt that, to me at least, made him sound very much like a bad Joe.
"You're basically fishing today and your hand is bait," Moore continued. "There ain't no rod and reel. There ain't no pole. It's man against fish."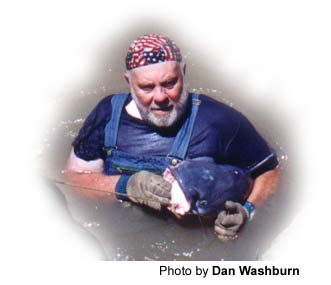 Or water moccasin. Or snapping turtle. Or alligator. The Big Black River has them all. But usually, Moore assured me, handgrabbers only run into fish.
And the fish can be feisty. You would be, too, if someone tried to interrupt your mating season. In Mississippi, it is legal to grab catfish from May 1 to July 15, the weeks when flatheads, and the more ornery blue cats, head to hollowed-out logs — or, better yet, the cypress boxes placed throughout waterways by handgrabbers — to spawn, a process that lasts a couple of days.
That's the time when grabbers like to shove their hands in muddy holes most people would never think of. And that's the time when catfish are more than happy to bite, which is ultimately the goal of the grabber.
Moore and his crew wear nylon gloves, the ones used for filleting fish, but they often don't stop the scrapes that leave scars. Catfish have thousands of tiny teeth that can rip off your hide like sandpaper.
"You catch one of them blue cats, and he can tear your (behind) up," Willoughby said. "People think we're crazy as hell."
I dug my foot into the floorboard of Moore's truck as we approached our put-in. I was thinking that those people might be right.