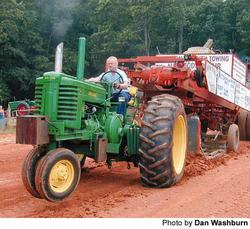 May 30, 2002 — "Turn left at the only red light in town."
When you are given those directions, you know you are headed for a countrified corner of the world. And when you turn onto Holloway Road in Danielsville, you know you have arrived.
It's a graveyard for anything with gears. Tractors, backhoes and school buses — in varying degrees of disrepair — line the path that leads to Holloway Hollow, a remote pitch of dirt and grass that houses one of Madison County's biggest tickets the second Saturday of each month, April through October.
It's an antique tractor pull. And it's simple and straightforward. Folks driving old tractors try to pull a weighted sled as far as their engines will allow them.
"This is good, clean American fun," said Gainesville resident Tim Akins, 38, who has taken his bright orange 1960 Allis-Chalmers tractor to Holloway for the past two years. "You can bring your wife and your kids. You ain't got to worry about nothing."
Akins paused for a puff on his Hava Tampa Jewel cigar and then added, "I don't think this would be a terrorist target for anyone."
The Stars and Stripes fly proud at Holloway Hollow. The Georgia flag does, too — and not that newfangled blue one, either. There haven't been many complaints about the Confederate flag's presence at the tractor pull.
If all the hauling makes you hungry, burgers and hot dogs are always on the grill. If you're lucky, there might also be some homemade apple pie and ice cream.
The pulling starts at 5 p.m. sharp. But spectators start arriving long before then. People plop down their lawn chairs to save spots on the grassy slope which has been leveled out into three tiers to accommodate the crowd. Country music is piped through the public address system until the action begins.
"There will be more good ol' boys gathered here than there are left in Hall County," Akins said. Holloway Hollow is one place where the phrase "good ol' boys" is actually taken as a compliment.
Broden Holloway used to farm the land that he turned into a tractor pull strip in 1990. The 69-year-old said, "It was just something I wanted to do."
Holloway, owner of Holloway & Sons Tractor Company in Danielsville, estimates that he lost around $2,500 holding the tractor pulls last year. He doesn't charge admission and only asks $5 per "hitch" from the drivers.
It's not money he's in it for. It's the people.
"Everybody's just good old country folk," Holloway said. "And they're enjoying themselves, it seems like."
On May 11, Holloway wore faded denim overalls and a John Deere cap, two items that appeared to be part of the antique tractor pull uniform. He had a wooden paddle in his back pocket — an "educational tool" for his grandchildren, he said. The radio headset Holloway wore to communicate with his volunteer staff seemed out of place.
Holloway's tractor pulls haven't changed much over the past 12 years. And he doesn't plan on them changing any time in the near future. Tractors still need to be more than 32 years old to participate. They can only be driven in first gear.
"Most tractor pulls, there's a whole lot of hot-roddin'," Holloway said. "But we don't allow that here."
Some of the antique tractors are so polished and shiny that they might be mistaken for new. Others feature what Akins likes to call their "original finish." It's all rust.
"It's a tractor pull, not a tractor show," clarified Akins, who owns an equipment and truck repair shop in Gainesville.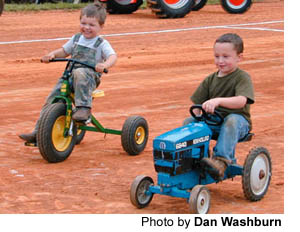 The pulling action itself is plodding. The tractors never move too fast. No fire shoots out of their exhaust pipes. If people are looking for speed, they can head on over to the go-kart track down the road.
No, the pull is all about power. Sometimes slow and steady does win the race.
"I guess it kind of grows on you," spectator Suzy Seagraves, 25, of Commerce, said. "It's relaxing to me."
The weight on the sled electronically shifts forward during each pull, making progress progressively tougher. Every now and again, the front end of a tractor will rise up off the ground while the rear tires grind deeper into the strip of packed Georgia red clay. And every now and again the fans will clap.
What really brings the crowd to its feet, however, takes place during intermission. It's the kids-only pedal tractor race, a mad dash on dirt to a finish line where everyone receives a trophy. The little tractors move a lot faster than the big ones.
The adults don't pull for trophies or money. They get a plastic plaque if they place in their weight class. But really, these guys pull for pride.
"I come to win every one of them," Akins said. "I don't, but I have that in mind when I come."
The tractor pulls in Danielsville never drag on too long. Everyone is usually packed up and gone by 10 p.m. Plenty of time to sleep and get up for church the next morning.
Broden Holloway wouldn't have it any other way.