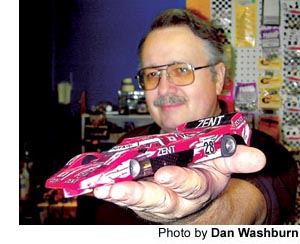 May 16, 2002 — I inspected the car Mark Taaffe built for me. I had my doubts as to whether it would withstand the beating I was about to put it through.
The car was yellow. It had a big blue "0" emblazoned on its roof.
"Zero is as close as I could come to a bullseye," Taaffe said with a smirk. "The new guy always has a bullseye."
And then he placed the car in my hand. It was time for my introduction to the scaled-down world of slot car racing, where the cars are small … and the thrills are big.
"It's frustrating at first, there's no doubt about that," warned Taaffe, proprietor of Bullet Raceway, which occupies the back section of the arcade at Bumper's & Bogey's on Jesse Jewell Parkway in Gainesville.
"You can get discouraged. Because it looks so easy."
The regulars who race at Bullet Raceway every Friday and Saturday night do make slot car racing seem rather simple. Just press a button and watch your car go.
But there's much more to slot car racing than that. It's the turns that make it tricky. Slot cars, which buzz around the track so fast they become bright-colored blurs, don't always stay in their slots.
I learned that early during my practice session. Take a turn wide open and you're headed into the wall … or over it.
"You built me a pretty sturdy car," I said to Taaffe, who apparently anticipated the torture I'd inflict on car No. 0. It happens to every beginner.
"It's a tank," Taaffe said with a knowing nod.
We were racing cars 1/24 the size of real cars. For those of you — like me — who have no idea how to visualize that ratio, we were racing cars about the size of an adult male hand. A motor is the size of a match box.
Taaffe's road-style track, built in 1964, is full of twists and turns. It's about 100 feet long and eight lanes — or slots — wide. Each lane is marked by a different color and has a corresponding control terminal along the straightaway.
Cars are powered electronically. Each "driver" has a controller that hooks into the track and operates a particular lane. Squeeze the trigger, and the car goes. Release it, and the car stands still.
Good racers find a rhythm, somewhere between reckless and reasonable. Great racers run awfully close to reckless, only without all the wrecks. Fast drivers at Bullet Raceway average less than four seconds per lap.
"If you watch the fingers, you can see the finesse," Taaffe said.
Terry Kelly played his controller like it was a musical instrument. His finger squeezed the same song lap after lap. He kept the beat with his head, back and forth, following his car around the track.
Kelly was my coach. And I couldn't have asked for a better one. He's a reigning United Slot Racers Association national champion, a title he won in April at a race in Anderson, S.C. He's also a regular at Bullet Raceway.
"Here, everybody will help you," said Kelly, 48, of Alpharetta. "Until the race starts. And then you're on your own."
Luckily, Kelly remained my crew chief even after the green flag dropped.
Races are split into eight three-minute periods. Each driver runs one period on each lane. The driver with the most laps after the last period is the winner. A computer does the counting.
Beginner races take a little longer to complete. The clock stops with every crash, and there are several. Thankfully, the "corner marshals" — the drivers waiting for the next race — are there to quickly return the careening cars to their proper slots.
Then the public address announcer barks: "3-2-1, squeeze 'em."
The cars and minutes went by so quickly, though, it was rather easy for me to lose track of how many laps I was losing by. Trust me, it was a lot.
After each round, Kelly took my car back to his body shop (he has a large, portable wooden equipment box that travels with him) and made adjustments.
This is serious stuff for Kelly. His story is similar to that of several slot car racers. He got into it as a child, lost interest as a young adult, and rediscovered the hobby in middle age. But slot car racing is more passion than hobby for Kelly these days.
"It's just like any other sport," Kelly said. "I like the competition."
Kelly constructs slot car parts at his home and sells them over the Internet and at Taaffe's store. He has his own racing team (he wore a "Kelly Racing" T-shirt on Friday) and boasts a roster of racers from California, Michigan, Tennessee, South Carolina and Georgia. The Kelly Racing team won five national titles in April.
Kelly said he put nearly 400 hours of work into his car leading up to nationals. He won about $400 for his efforts.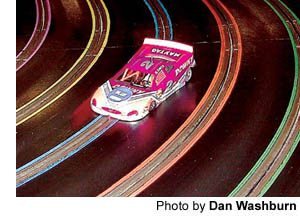 "You don't cover your costs," Kelly said. "But you do make some money."
Kelly, who often swaps out tires on his car based on changes in humidity, asked me if the car felt "loose" at one point during my race. I just shrugged.
Of course, Kelly is just an extreme. You can buy a car from Taaffe for as little as $45 and rent a controller for $2. Just like that, you are ready to race.
"We bought cars and just dove right in," said Kevin Umstaedter, 46, of Gainesville, who started slot car racing with his two young sons almost a year ago. "It's a great hobby for kids. And it's a kick in the pants. It's a heck of a lot of fun."
Twelve-year-old Brandon Howorth, a sixth-grader at Chestatee Middle School, has his parents drop him off at Bullet Raceway every Friday night.
"I just like racing," said Howorth, who stumbled upon the hobby six weeks ago and, by the way, soundly defeated the yellow car with a "bullseye" on its roof. "It's fun coming here every Friday to race."
You know Brandon, you're right. Just watch out for the ol' No. 0 car next time.