"You've got to be able to strategize," Todd said. "You've got to be able to know what your opponent is thinking."
Todd, of course, is talking about the popular family card game UNO.
"You've got to try to be able to stack up a bunch of Draw Twos, Reverses and Skips," Todd continued with urgency, "so you can play them back-to-back and go out before your opponent expects it."
Every day, during the hour reporters tend to spend huddled around the Falcons players that rack up fantasy points, Todd and Ephraim Salaam — two offensive linemen — break out the UNO deck and play round after round.
Last season, Salaam and former Falcons offensive guard Anthony Redmon played daily and kept a running tally of the results. With Redmon gone, Todd — next on the UNO depth chart — stepped in to challenge Salaam.
"We haven't been keeping score this year, though," Todd said. "Because I know it would probably hurt Ephraim if I took the trophy from him."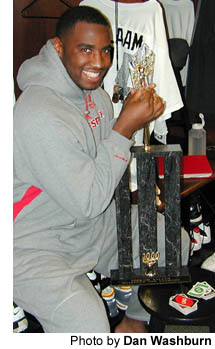 Ah yes, the trophy.
Engraved "Millennium UNO Champion," the trophy is prominently and proudly displayed in Salaam's locker at the Falcons training facility in Flowery Branch. It's a tall prize for a tall man. Salaam stands 6-foot-7 and weighs 300 pounds.
"Ephraim's pretty good," Todd said. "I like to think I'm pretty good, too. Ronnie Bradford claims to be the best in here. But when Ephraim hears that, he always just points to his trophy."
The trophy was tarnished recently. The gold figurine that once stood so stately on its top snapped off, breaking the trophy in two.
Todd and others say the trophy simply fell over. But Salaam blames vandals, teammates jealous of his mad UNO skills.
"Those bastards," Salaam said under his breath.
Bradford, the veteran cornerback, said he wasn't responsible for the trophy's tumble. But he hinted that Salaam had it coming.
"The linemen cheat," Bradford said with disgust. "They make up their own rules. I just got tired of it."
"There he goes with the right rules thing," Salaam said when he learned of Bradford's comment.
Although Bradford was one of the first Falcons to introduce UNO to the locker room, he rarely plays anymore. Salaam runs the show and keeps the cards in a zip-lock bag in his locker.
So who gets to play? "I have to deem you worthy," Salaam said. And Salaam is not easy to impress.
Offensive guard Travis Claridge was banned after just three games. "He has the brain capacity of a small grapefruit," Salaam said.
Offensive tackle Michael Thompson met with a similar fate. "He can't shuffle," Salaam said. "We call him 'sausage hands.'"
Rookies are never welcome.
"They made that very evident," first-year offensive lineman Roberto Garza said.
Rookies are allowed to watch, though. And Garza has studied Salaam's strategies. He's familiarized himself with Todd's tendencies. He thinks he has what it takes to be an impact UNO player next season.
"I'm thinking about going to some UNO camps during the offseason," Garza said. "And I'm going to watch tapes of past UNO championships."
For now, however, the games will remain just Todd and Salaam. One on one. Lineman against lineman.
"Todd is good," Salaam said. "But only because I've worked with him. I like to find one partner that I kind of can mentor and make good. Todd is that guy this year."
Salaam said he started playing UNO during wild weekend nights at San Diego State University. Salaam's UNO parties would get out of hand, attracting six — sometimes seven — people.
"It used to be so much fun," Salaam said, pausing to caress his UNO trophy. He often does that.
"He went and got that trophy made," Bradford said. "Anybody can get a trophy made. He went to one of those little trophy shops and had one knocked out."
Salaam says that's just not true. It was Redmon who bought the trophy.
"He had to," Salaam said matter-of-factly. "Because I was the Millennium UNO Champion."
December 23, 2001 — Atlanta Falcons starting center Todd McClure gets serious when he talks about the game.