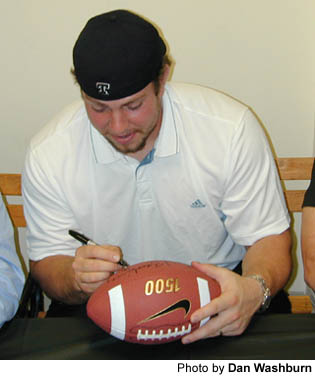 December 8, 2001 — The kids looked lost. They looked confused.
They clutched their Sharpie pens tightly, and wandered the floor of the Gainesville Bowling Center, quizzically looking up and down from their Atlanta Falcons team photos.
"Um, do you know where the players are?" one of them asked. This was last Tuesday, during the Falcons annual Bowling for Kids charity fund-raiser.
Without the uniforms, sometimes it's tough to tell exactly where the players are. With a polo shirt on and a cell phone clipped to his belt, Falcons fullback Bob Christian could just as easily pass for Bob from accounting.
Most players just look like normal guys. Granted, really big normal guys. But isn't everybody really big when you're 7 years old?
"One of them is right over there," I told the kids.
The boys looked behind them at Falcons starting center Todd McClure. Then they looked down at their team photos again. They still weren't sure.
"Who is he?" they asked.
"Trust me," I said.
The kids took my word. And Todd greeted them with a smile and scribbled his name and jersey number near his face on the photos.
The kids said thanks and walked off. Maybe they'd go home and look up who No. 62 is on the Internet.
Playing a professional sport that requires a helmet doesn't do much for your Q-rating. Neither does being an offensive lineman.
Most NFL players don't get a lot of "face time" unless they're lucky enough to sign a contract to eat Campbell's Chunky Soup every day on television.
Still, Todd likes to get out and meet the public. He often volunteers to appear at autograph signings and charity events.
"I enjoy it," Todd said last Saturday during a Toys for Tots autograph signing at the Venture Mall in Duluth. "A lot of times you don't realize how many people know you or know about you that come in. And you get to meet them personally, and that's neat to meet your fans."
One hundred percent of the profits from Saturday's signing, sponsored for the third year in a row by Venture Sports, went to Toys for Tots. Celebrities, including several Falcons players, donated their time. The price of admission for fans was an unwrapped gift valued at $10 or more.
Tuesday's Bowling for Kids event raised more than $50,000 for the Boys & Girls Clubs of Hall County, Challenged Child and Friends Inc. in Gainesville and the Falcons Youth Foundation.
"Just any little thing you can do to help out kids and give them something makes it worth the while," said 24-year-old Todd, who became a father for the first time last summer. "I guess sometimes I can take it for granted, because I always had stuff growing up. You've got to think about kids that don't have it."
Todd sat next to place-kicker Jay Feely at the Toys for Tots signing.
An offensive lineman and a kicker. It was the all-under-appreciated table.
Todd and Feely talked about the fact that neither one has appeared on a football card yet. Then Todd recounted the story of second-year receiver Brian Finneran, who didn't know he had his own card until a kid approached him after a game with a stack of them.
Finneran signed some — and then asked if he could keep one for himself.
The Falcons fans that visited the Venture Mall were a quiet lot. Those that did speak, didn't say much other than, "Good luck, tomorrow."
The silence usually means that the Falcons have been winning. During tough times, disgruntled fans will often appear at signings not so much for the autographs, but for the captive audience.
"When you're not winning, fans just want to ridicule you and tell you what you've done bad," Todd said. "They come up and give you their opinion. And you've just got to sit there and bear it."
Earlier this year, Todd had a captive audience of his own. For the second year in a row, he volunteered as an offensive line coach during spring practice for Collins Hill High in Atlanta. It's part of the NFL's Youth Football Program.
"I really enjoy it," Todd said. "It's something that I hope to do when I get done playing."
Some of the Collins Hill team even took Todd, an avid fisherman, out to some local ponds. Todd keeps in touch with some of his players and followed Collins Hill's progress through the season.
"So how did the team do?" I asked.
"I don't think they made the playoffs," Todd said. "Their quarterback got hurt."
"It wasn't the offensive line's fault, was it?"
"Oh no," Todd replied immediately. "It's never the offensive line's fault."
Signing Day
Todd signed his first autograph after he earned his scholarship from LSU. Since then, he has signed thousands.
"When you do a lot in row," Todd said, "your hand starts cramping up. They start off looking all right. But once you start signing more and more, you just scribble something down and put your number by it, because fans have a tough time reading it."