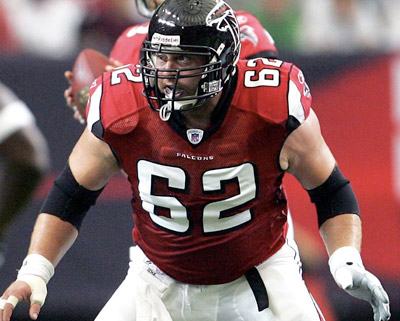 Granted, Todd McClure's name is not of the household variety. Not yet, at least.
He doesn't pass the ball, catch the ball, or run it into the end zone. He's just one of the guys who makes all of that possible.
In the weekly war that is the National Football League, Todd pays his dues in the trenches. He lives his life on the line.
They are an anonymous lot, these NFL linemen. They carry lunch pails to work and wear collars colored blue.
Offensive linemen are the league's street sweepers. They clear the path for the other guys, the guys you don't need a game program to identify.
Todd is the starting center for the Atlanta Falcons. He is the first person to touch the ball on every offensive play. And hopefully not the last.
You may not know Todd now, but you will by season's end. Trust me.
Each week, these columns will be dedicated to some aspect of Todd's life. We will follow him throughout the season, and provide you with an exclusive behind-the-scenes look at the life of a lineman.
That's 16 different stories — not including playoffs. And that's more media attention than most linemen get in an entire career.