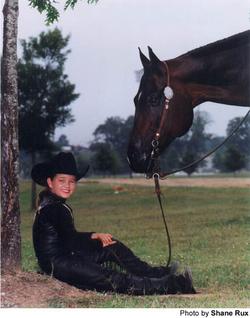 March 21, 2002 — For 15 seconds or so, Dodie Ellison thought that her granddaughter was dead. Nine-year-old Honey Beth Campbell lay motionless in the dirt. A horse named Hunker had just put her through hell.
When I heard the story, it made my stomach sink. In the fall of 2000, Honey gave me a lesson in competitive Western horseback riding for a Sporting Life column. She introduced me to her horses: Hunker, the younger one she won a state championship on, and Godfather II, the aged one whose sagging back she learned to ride upon.
Readers fell in love with Honey. So did I. And I'm relieved to report that this story has a happy ending.
No one is really sure what spooked Hunker, the 13-year-old show horse Honey had ridden without incident for three years, back on Dec. 23. As Dodie said, "Who knows what horses see?"
For whatever reason, Hunker bolted. And Honey was helpless. The 81-pound fourth-grader dangled upside-down, her foot stuck in its stirrup, as the 1,400-pound horse that she loved so much raced frantically around the round pen at Three S Farms in East Hall. With each step that he took, Hunker whacked Honey in the head with his hind leg.
All Dodie could do was watch.
"I heard this little voice say, 'Help me, Toad,'" Dodie remembered. "And I will hear those words 'til the day I die."
Dodie and Honey are about as close as a grandmother and granddaughter can be. They have nicknames for each other: Dodie is Toad, Honey is Worm.
Eventually, Worm worked her foot free, and Hunker sent her flying. Honey landed in a heap, and Dodie — sprinting to her granddaughter's side — feared the worst.
But Honey coughed, and Dodie raised her head. Blood poured from Honey's mouth.
That didn't stop her from talking, however. She told Dodie that she couldn't breathe. She said her arm hurt.
Then Honey turned to her grandmother and asked, "Is Hunker OK?"
Dodie raced Honey to the emergency room. A CT scan came up negative. The diagnosis was a serious concussion, a deep tissue twist in her arm and a cut-up mouth.
But in the days that followed, Honey didn't show signs of improvement. If anything, she was getting worse.
She stayed in the hospital for nine days. The first four were the worst. She vomited constantly and stared at the wall like a vegetable. The only thing she said was, "Don't touch me."
"When I was in the hospital," Honey said, "I thought, 'I hope I'm not going to be like this forever.'"
Honey's parents were worried, and they called in a specialist. It's a good thing they did. The specialist discovered that Honey had a cranial bleed, bleeding on the layer of the skull that attaches to the brain.
It's an injury that can be serious. But in Honey's case, thankfully, it looks like it was caught in time.
"The doctors told us in no uncertain terms that she was one whack away from being very seriously injured," Honey's mother Jordan Campbell said. "It scares me today when I think about it. It makes me sick, really.
"I have no doubt that God was looking out for her. That's the only way I know how to explain it. I don't know what else it could be."
Honey lost 12 pounds in the hospital. She missed Christmas. She wasn't able to ride the new dirt bike her parents had bought for her. She wasn't able to ride her horses. She wasn't able to do much of anything.
"I had to miss the first snow," lamented Honey, now 10 and a student at Mount Vernon Elementary. "My brother got to play outside and I was really jealous."
Hunker, meanwhile, refused to eat for several days after the accident. He knew that he had done something wrong.
"I wasn't mad at him," Honey said. "My mom was, though."
Jordan, admittedly not much of a horse person to begin with, added, "I hate to say this, but if she never got on again it would suit me. But I would not do that to her."
When Honey returned to school, she had trouble staying awake. She'd lay her head on her desk and sleep for hours.
The recovery process from such an injury involves a lot of waiting. And the waiting isn't over yet. Honey still suffers from the occasional headache. She's got knots on the side of her head. Her arm is still hard to the touch.
"I think most of it will go away in like a few years," Honey said. "But I'm riding now."
Yep, doctors cleared Honey to hop back on a horse three weeks ago — as long as she agrees to wear a helmet. She took her first ride March 5 … on Hunker.
"I was looking forward to it," Honey said. "But when I first got on, I took a deep breath and went, 'Here it goes.' And I just started riding like I always did."
Well, almost. She hadn't worn a helmet before. She'll never ride without one again.
"Anybody should wear a helmet, I think," Honey said. "Because it could happen to anybody."
NOTE: If you were wondering, good ol' Godfather II turned 28 on March 1. Honey and Dodie sang "Happy Birthday" and gave him a full box of thin mint Girl Scout cookies.
"And we put the pearls on old Godfather," Dodie said. "He always has to wear the birthday pearls."