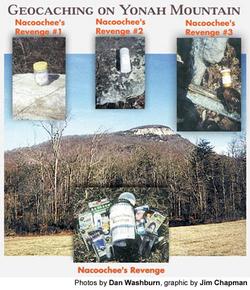 March 14, 2002 — Hi. My name is Dan. And I'm a geocacher. There, I said it. Are your geek alarms going off?
Believe it or not, I've never watched a full episode of "Star Trek." I still haven't seen the most recent "Star Wars" installment. And I have no interest in reading "The Lord of the Rings" — I saw the movie, and left the theater rather unimpressed.
But after my first geocaching experience last March — also the subject of a Sporting Life column — I went right out and plunked down $100 for my first Global Positioning System unit. A GPS is an electronic device that, based on latitude and longitude coordinates, pinpoints your exact location on Earth and allows you to seek out any other specific location.
I have hiked to 12 caches — think hidden treasure … of very little value — since finding that first one atop Ramrock Mountain on the Appalachian Trail near Suches one year ago.
And some of those caches have involved as much as 14 miles of hiking. Who are you calling a geek now?
Geocaching has led me to beautiful, odd and out-of-the-way spots throughout Georgia and beyond, places I likely never would have stumbled upon otherwise. Geocaching is like an online referral service for hikers: "Here, I really liked this area. Now you try to find it."
Most caches are of the traditional variety, a Tupperware container or ammo box filled with an assortment of trinkets and a log book. There are also micro-caches, which can be as small as a film canister, and multi-caches, which can involve several stages.
Then there are what the more outdoors-oriented geocachers refer to as "drive-by caches." These require very little effort to get to, and are primarily placed by those interested more in electronics than exercise. The real geeks, if you will.
"There are the geeky types that just do it in the city," said Allen Lacy, 47, of Toccoa, who has found 113 caches and placed seven since September 2000. "But the ones I run across seem to be like me: a little of both. They are gadget freaks that like the outdoors."
Geocaching has only existed since May 2000 — that's when the U.S. government stopped intentionally degrading the GPS signals available to the public — but it has grown considerably since. When I last wrote about geocaching, there were just 33 caches hidden in Georgia. Now there are 268, and 13,870 active caches in 109 countries throughout the world.
"When I started, I had to drive all over the state just to find a geocache," said 50-year-old Erik van Dyck, of Suwanee, perhaps the most active geocacher in Georgia, with a staggering 274 caches found since last February. "But now there are plenty of them."
But as the number of geocachers out there increases, so does the number of obstacles that geocachers face. National parks have decided not to allow caches. State parks in Georgia don't, either.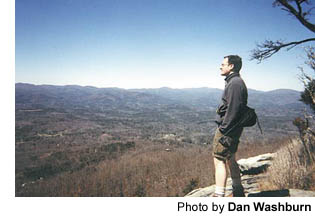 Persuading the Georgia Department of Natural Resources to rethink its geocaching ban is one of the primary reasons the Georgia Geocaching Association was formed. As Lacy said, GGA members want the DNR to know "that we're not a bunch of idiots running out and digging holes."
The GGA has nearly 100 members and meets monthly, usually in metro Atlanta. It is one of the first statewide geocaching organizations in the country.
But geocaching remains primarily an online community. Visitors to www.geocaching.com use handles like CacheNinja and GeorgiaGeoDude. They log their cache visits on the web site and sometimes discuss the hobby in chat rooms.
"You'll find people that seem to spend more time on the forums discussing geocaching than they do actually doing it," van Dyck said. "I guess I'm just the opposite. I enjoy looking for them. I enjoy even more putting them out. That's really fun."
Van Dyck started geocaching as a way to lose weight and get outdoors. Soon, the "hobby became an obsession." Van Dyck is often the first person to find newly placed caches in Georgia.
"I go during business trips," van Dyck said. "Rather than go to the happy hour buffet late in the afternoon, I go to geocaching.com and find out what caches might be in the area and get in my little rental car and go for it."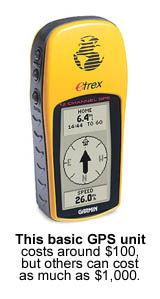 I know one Georgia cache that van Dyck hasn't found yet. It's called Nacoochee's Revenge and it's the first cache on Yonah Mountain. I know this, because I put it there on Sunday — the day I graduated further into geocaching geekdom.
I challenge you to seek Nacoochee's Revenge. Of course, van Dyck will likely beat you to it. "I can quit anytime I want," van Dyck said with a chuckle. "I know I can."
Geo What?
• Geocaching (pronounced geo-cashing) is a worldwide game for users of the Global Positioning System, or GPS. The game basically involves a GPS user hiding "treasure" — the cache and its contents — and publishing the exact coordinates on the Internet so other GPS users can go on a "treasure hunt" to find it. The rules? They are simple. If you take something from the cache, you must leave something in the cache.
• About GPS: The GPS is a satellite-based navigation network that allows users of GPS receivers to pinpoint their location on the planet (within around 20 feet) using latitude and longitude coordinates. The GPS consists of 24 2,000-pound satellites, situated more than 12,000 miles in space, that constantly orbit the Earth.
• In Georgia: At presstime, there were 268 caches hidden in Georgia and 36 within a 25-mile radius of Gainesville. The Georgia Geocachers Association has nearly 100 members and meets monthly. Visit the GGA online at: www.ggaonline.org.
• On the Web: www.geocaching.com