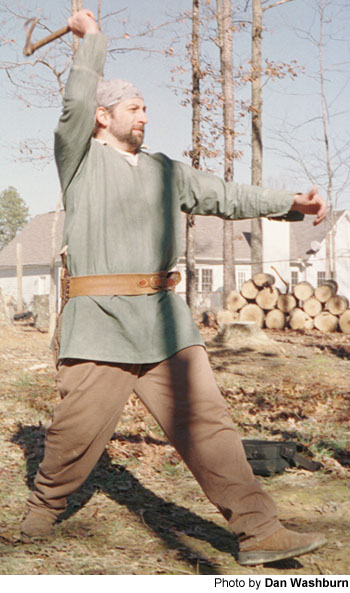 January 23, 2001 — The sharp steel sank inside the soft stump and my soul screamed.
The mountain man inside of me awoke.
I began to second-guess all the other Sundays of my life — the ones not spent hurling axes and knives at pieces of wood. All those hours wasted eating, sleeping and watching football.
I learned about the Georgia Throwers Association (GTA) from a small posting in the back of Atlanta Sports & Fitness Magazine. All it had was a name and a phone number. It was listed under "Miscellaneous."
I called — having no idea what objects these Georgia Throwers actually threw — and a few weeks later found myself tossing a tomahawk in someone's Bartow County backyard.
Frank Rago's house was bigger than I expected. In fact, as I entered his upscale subdivision in the tiny town of White, just north of Cartersville, I thought I must have made a wrong turn. No crude country cabins in sight.
But, amid the manicured lawns, I found Rago sitting next to a campfire in his backyard. He wore boots, a bandana and a belt that held knives.
"When my neighbors see me dressed up like this," the 38-year-old Rago said, "they're like, 'Oh, he's doing his own thing.'"
Rago's "thing" involves all things primitive. He carves and shoots his own bows and arrows, and fashions quivers from the hides of wild boar. Three years ago, the story goes, Rago made a trade with "an old buckskinner named Leon": one of his homemade bows for two throwing knives and a tomahawk.
Rago is now a thrower for life, with three targets — tree stumps propped up on wooden tripods — in his yard, just a few feet away from his 3D archery range. He regularly competes in mountain man "rendezvous" across the South, and decided to form the GTA a year ago.
"I'm slowly going back to more of the primitive ways," said the ex-Marine, originally from New Jersey. "But my wife won't let us get rid of the house and get a teepee. I've already tried to talk her into that."
"If I could find a way to get online, we probably would," Caren Rago, Frank's wife, chimed in with a smile.
That's when I found out that the couple owns an Internet-based mosaic supply store. Primitive ways?
"I said 'slowly,'" Frank added with a laugh. "I'd like to go back to those days, but those days were hard. I mean, people didn't live long."
The founders of the Georgia Throwers Association are, from left, Eryk Smith, Frank Rago and Allan Rosen. The continue to be the club's only three official members. For information on joining, contact Rago at 770.607.9051 or ikon@mindspring.com.
All three of the GTA's founding members were on hand Sunday: Rago, Eryk Smith, 38, of Stone Mountain, and Allan Rosen, 44, of Atlanta. Rago, Smith and Rosen remain the only official members of the GTA.
"It's such an offbeat hobby," admitted Smith, an Army captain turned computer technician with a miniature gold dagger dangling from his necklace.
"I tell people and they kind of look at me like I'm strange. They look at me like I'm dangerous."
And to targets, Smith is quite dangerous. He's been throwing sharp objects since childhood.
"I grabbed my mother's kitchen knives, made sure she wasn't around and started throwing them into a tree," said Smith, who will compete in the International Knife Throwing Alliance World Championships (yes, there is such a thing) in Phoenix, March 16-18.
"No knife was safe with me," he said. "Most people got started the same way. They saw a knife. They picked it up. They threw it."
Smith, wearing fatigues and combat boots, travels with a briefcase full of throwing knives. He let me throw quite a few of them Sunday.
"Throw it like a baseball," Smith instructed.
I looked down at the foot-long bowie I was holding, and chuckled a bit. I looked back up at the target, 12 feet away, and chuckled again.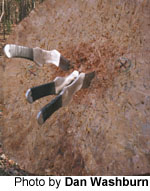 But throwing the knife felt quite natural, actually. And sticking a target stirs the spirit.
This is darts, with testosterone times 10.
I tried the tomahawk next, and the weapon and I clicked. I placed the 'hawk's blade into the target on my first throw.
Now, my second toss took a chunk out of the target's stand, and my third, fourth and fifth each sailed into the woods beyond Rago's property. But that first throw was the stuff of legend.
We threw all afternoon, until the sun sank behind the trees. Conversations were spiked with awkward pauses. Errant knives would clang off of targets, causing talkers to turn and make sure nothing ricocheted their way.
I found a rhythm with the tomahawk there for a while. Found the forest a few more times, too.
But most of all, I found pleasure in the sights and sounds. Of blades slicing through the air. Of steel piercing solid wood.
It's the kind of stuff that almost makes you want to go primitive — if only they had the Internet back then.