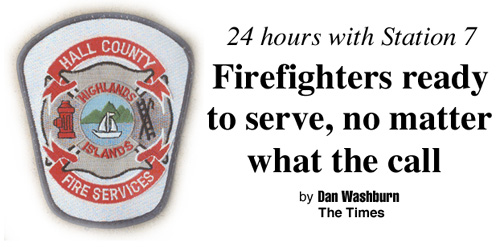 Times staff writer Dan Washburn recently spent 24 hours with the crew of Hall County Fire Services Station 7, getting a unique insight into the inner workings of the lives of Hall's firefighters and emergency workers.
Put down your cup of coffee and save a stranger's life. Quit everything you're doing and risk your own. Could you? Would you?
It's all in a day's work for the emergency workers of Hall County Fire Services.
They are firefighters. They are paramedics. They are emergency medical technicians.
Simply put, they are the people who come to your aid when you need them the most.
They can pull a body out of a burning building and stop it from dying right there on the spot. They might use the "jaws of life" at a car wreck one minute and deliver a baby the next.
"You just never know what's going to happen," said Capt. Milton Keller, an emergency medical services supervisor. "You've got to be able to handle the randomness and at the same time handle the monotony. At times this can be a very exciting job, and at times it can be a very boring job."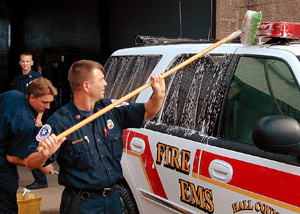 But there is dither to the down time, as well.
You never know when it's going to end. You never know when an emergency tone will trumpet through the stationhouse. You never know when you'll have to stop whatever you're doing and race off to save someone's life.
I learned this early on during 24 hours spent chasing Keller and the rest of Station 7's C-shift, one of three units that work out of the building off Jesse Jewell Parkway near Interstate 985's Exit 24.
It was early October. The Braves were still playing baseball — barely. The University of Georgia football team still had high hopes — and its old head coach. And Hall County was readying for its first really cold night of the fall.
The shift began at 8 a.m. on a Saturday — and the first fire call came in just 14 minutes later.
The firefighters, who are also trained emergency medical technicians (EMT's), were in the middle of their typical early-morning chores: cleaning the engines and ambulances, restocking the medications, sneaking in a breakfast snack.
But when that tone sounded, everything stopped. And everyone's focus shifted to fighting a house fire on Gaines Mill Road in East Hall.
"This time of day on a Saturday," Keller said as we sped to the scene, sirens blaring, "it's very likely somebody is still in the house."
We arrived in minutes to find firefighters from Station 1 already milling about. There were several of them — wearing boots, helmets and oxygen tanks — discussing what turned out to be nothing more than a piece of sausage burning on a stove.
"Y'all didn't even get breakfast to eat, did ya?" Keller joked to the group.
"Heck of a way to start the day," sighed Station 1's Nathan Sneed, a 24-year-old firefighter who makes the 80-mile drive from his home in Murphy, N.C., prior to every 24-hour shift.
With 12 stations and more than 70 staffers per shift, Hall County's is one of the largest paid fire departments in the region, drawing workers from across Northeast Georgia, and beyond.
They're not in it for the money, either. Salaries for Hall County firefighters start at around $23,000 per year.
Most supplement their income with part-time jobs worked during the 48 hours they have "off" in between shifts. The group at Station 7 moonlights as construction workers, police deputies and landscapers.
One, interestingly, is a well-known folk artist. Chris Lewallen's paintings have sold all over the country.
"It's not your average person (who) chooses to do this," Keller, 41, of Habersham County admitted. "You've got to be a little crazy, a thrill-seeker. But most are people who just want to help other people."
Back at Station 7, the morning chores resumed and the crew began to speculate on what the day had in store for them.
They all agreed one thing was inevitable: "You won't get much sleep tonight," Joey Ledford, 41, of Gainesville, C-shift's fire captain, warned me.
It happens every year. With the season's first deep freeze, chimney fires and over-anxious heating units keep the firefighters busy. Often, it's no fire at all, just dust burning off the heating elements.
But Hall County Fire Services answers all calls.
Even though it was not yet 10 a.m., the topic of conversation soon shifted to that of the evening's supper. Each workday, a different shift member assumes the cooking responsibilities for the whole group.
This day's chef was Jake Stringer, a 20-year-old rookie from Jackson County.
"We've never eaten his cooking before," Keller said with a half smile. "So it should be interesting."
Sherman Gilleland no doubt has eaten his share of "interesting" meals during his 27 years with the department. The 50-year-old battalion chief from Gainesville sat nearby at the kitchen table, closely inspecting an issue of Saltwater Sportsman magazine.
"Sixteen months, I'm going to retire and get me one of them," Gilleland said, pointing to a photograph of a large fishing boat. He wants to move down to Fort Walton Beach, Fla., and be "sorry as the dickens."
Dealing with harsh realities
The job can take its toll.
As one firefighter I encountered during the day said: "If we're busy, somebody's having a bad day."
Two eyes can stand only so much death and destruction.
Around lunchtime, Keller handed me a pile of photographs. "Here, take a look at these," he said.
Mixed in among a random assortment of snapshots from Keller's camping trips and family vacations were some of the grisliest images I have ever seen.
One in particular — of a charred body sprawled out across the burned backseat of a crashed car, entrails spilling out onto the ash-covered floorboard — made my stomach turn.
Keller, meanwhile, sat beside me, slurping down a bowl of Golden Crisp cereal.
To him these were merely photos from the office. I had to go outside and get some fresh air.
Early in his career, Keller suffered from stomach ulcers. He would catch himself gritting his teeth and pressing his foot hard against the floorboard during the drive to calls.
He soon realized, however, that all his inner aggravation ‹ no matter how natural — was not going to brighten the often grim picture that awaited him at the end of the ride. It's the nature of the beast.
"We end up dealing with people when they're at their worst, or else we wouldn't be called," Keller said. "I don't think you ever get used to it. But you get to learn to deal with it as being part of the job."
The only way to deal with it, I was told over and over, is to become emotionally detached from the suffering seen. That is the only way to stay sane.
"It doesn't mean it doesn't bother you, because we're human," firefighter Scott Lashley, 36, of Cleveland, said. "It might bother you worse when you're driving home the next morning and it's all playing around in your head.
"But some of these calls, you might as well call them 'top secret.' It's not something you take home to your family."
So firefighters lean on each other for support. Each shift within each station is a tight-knit group.
"It's really like a second family," Ledford explained to me as we answered a fire call in the Rescue 7 truck later in the day. "You're there for 24 hours together."
"You spend a third of your life with these guys," added 29-year-old Bryan Cash of Jackson County from the engineer's seat.
A family atmosphere
And the stationhouse is a home away from home. In the garage, there's exercise equipment and a table tennis game. In the lounge, there's a kitchen, a couch and a color TV. A door leads to the bunk room, full of beds and little else.
It's like a fraternity house for firefighters.
Never was the family atmosphere more apparent than at dinner time. Everybody pitched in. And Stringer, the rookie firefighter, finally decided upon a main course.
"He was talking about doing a hot-dog casserole," Keller said. "But I think we got him talked into doing just hot dogs."
Chief Gilleland chopped onions while Capt. Ledford worked the cole slaw.
"You're not into that health food, are you?" Ledford asked as he added a huge dollop of mayonnaise to the bowl.
"What I'm going to do is eat two hot dogs and one blood-pressure pill," Gilleland joked.
My hot dogs would have to wait. A fire tone sounded as soon as I had them on the plate.
"That happens frequently, believe it or not," Ledford said. "A lot of times you'll leave and won't get back to have dinner until after midnight."
Hours bumped into hours as the long day wore on. The firefighters tried to stay in touch with the real world as they answered call after call.
"Are the Braves still losing?" they would ask. Yes. They lost and their season ended.
"Are the Dogs still winning?" Yes. They won and the goalposts came down.
But the day's hot topic was the cold weather. The shift placed bets on when that inevitable first chimney fire call would arrive. Some of the "white shirts," as the captains are known, took naps in the early evening in anticipation of the long sleepless night before them.
"Maybe we'll see you on the big one," EMT Christy Rannalli said to me as we crossed paths during the afternoon.
An eager expectancy made the evening hours go quickly, but the "big one" never came. Most of the small ones didn't, either. Not one chimney or heater fire throughout the night.
"Sometimes you might sleep most of the night," Lashley said. "Sometimes you won't get more than an hour."
There was one call, at 4:37 a.m., that sprung Station 7 into motion. We were out of bed, dressed and in the trucks in less than 90 seconds. Everyone, with the exception of a certain newspaper reporter, was alert and ready to fight a brush fire along Interstate 985.
As the firefighters fought their way through the briars. I fumbled with my camera. While attempting a photograph, I instead ejected batteries onto the pitch-black ground. My mind was still back in the bunk room.
But there would be no more sleep during this shift. The sun rose and breakfast was served. A-shift gradually started to arrive at Station 7.
No, the "big one" never came. But I left Station 7 early Sunday morning knowing that it would come eventually. And I was comforted by the knowledge that Hall County Fire Services would be there to answer the call.
Reporter notebook: A day in the life of Station 7's C-shift
8:14 a.m.
Food on the stove
A call came in as a residential fire with a child trapped. I accompanied Milton Keller, C-shift's emergency medical services supervisor, as he raced — lights blazing and sirens blaring — to the scene, a mobile home on Gaines Mill Road. Firefighters from Station 1 already controlled the situation, which turned out to be a smoke-filled home caused by a burned piece of sausage.
9:56 a.m.
Bottle to the head
Keller and I responded to another call. A man had flagged down a Hall County Sheriff's Office car in an alleyway off Atlanta Highway. He was bleeding heavily from his face. Personnel from Med 15, a county ambulance, were already on the scene. When we arrived, paramedics were attending to a 6-inch gash. Meanwhile, 25-year-old Ruben Flores was handcuffed and bent over the hood of the patrol car, to be arrested and charged with aggravated assault for hitting the other man in the face with a bottle. Flores later pleaded guilty to battery and public drunkeness.
12:15 p.m.
A familiar face
When Keller heard the call, he knew exactly who it was for. There are regular customers in the emergency business, and this was one of them. After experiencing a seizure, a 63-year-old Lula man was trapped under his riding lawnmower. This man's seizures are a common occurrence for Keller. So are the man's refusals to be transported to the hospital. Paramedics were already on the scene, and the man was sitting on a rocking chair on his porch. "I don't have any remembrance," he said of the accident.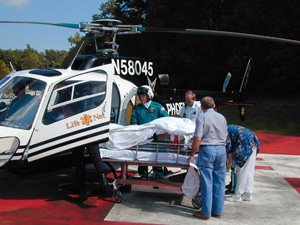 1:45 p.m.
A little teamwork
Keller was called to the Lanier Park Hospital emergency room to provide a pair of inflatable military anti-shock trousers to help stabilize a critical patient with a pelvic fracture and internal bleeding. The patient, a 65-year-old Habersham County woman, fell 25 feet from a deck on her home. Everyone — Lanier Park staffers, Habersham County paramedics and Keller — worked as a team, no questions asked. "Everybody knows what needs to be done," Keller said. "You just sort of step in, and you know pretty much when it's time to step out."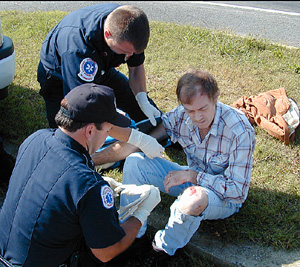 2:56 p.m.
Mild case of road rash
Keller and I arrived at the scene of a call that was described as a motorcycle wreck with possible injuries on U.S. 129 north at Little River Park. We found a scraped-up Bobby Slater sitting on the curb, his black motorcycle nearby. Slater, who slid his bike in order to avoid a collision with a stopped car, was treated at the scene for minor "road rash" by Station 7's medical unit. His injuries likely would have been much worse had he not worn his helmet. As Keller and I drove back to the station, we passed, several cars that appeared to be headed to Georgia-Tennessee football game in Athens. It was then that I realized we still had 17 hours left in our shift.
5:25 p.m.
False alarm
Right before dinner was to be served at the stationhouse, the tone sounded. Bryan Cash's eyes lit up. "That's a fire," said Cash, engineer of the Rescue 7 truck. "You coming?" I chased Cash, C-shift fire captain Joey Ledford and firefighter Jake Stringer into Rescue 7, and we were off. A residential alarm system had been triggered. The firefighters knew it was likely a false alarm — such calls usually are, I was told — but still responded as if lives were on the line. Stringer donned his fire gear in the seat beside me. Dinner would have to wait … but not too long. At 5:34 we were in Oakwood and learned that the alarm was set off by accident.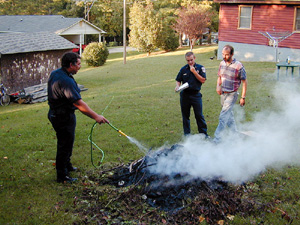 6:07 p.m.
"Illegal" burn
I was in the process of eating my first hot dog when another fire tone dropped. Heavy smoke was reported on South Bend Road. I joined Engine 7's M.J. Skinner, 43, of Braselton, and Eric Harbin, 22, of Commerce, to check things out. We arrived at the scene and a resident was tending to a fire in the back yard. Burning leaves, tree limbs and grass with a permit is normally legal, but the drought changed all that. The resident was warned, and the fire was put out with a garden hose.
9:11 p.m.
False alarm, part II
Rescue 7 members raced into action, again. Eight minutes later Rescue 7 was told to turn around, again. It was another false alarm. Georgia was beating Tennessee, 14-10.
9:40 p.m.
Case of the curious odor
Rescue 7 was called to the scene of an apparent gas leak at a home in Chestnut Mountain. One problem: The home does not use gas. The smell — similar to that of nail polish remover — was strong throughout the house, strongest in the master bedroom. The scene that followed was humorous. While the homeowner repeatedly apologized for pulling the crew away from the Georgia game, firefighters, sometimes down on all fours, smelled everything in the room — drawers, closets, cabinets, hampers — before finally determining that the smell was coming from the ceiling fan and light fixture. Overheated oil, apparently, smells a lot like nail polish remover. "Sometimes you have to be a little bloodhound," Cash said. We left at 10:40 p.m. — Georgia was now up 21-10, the eventual final score.
1:21 a.m.
Minor car wreck
Keller emerged from the bunk room to tell me we were headed to a car accident in Chestnut Mountain. The call said multiple injuries were possible. It turned out to be rather innocuous. One car of teen-agers rear-ended another, and there were no serious injuries. As we headed back through Gainesville, the streets were empty. There were no signs of life on this early Sunday morning. "Buckhead is probably still going strong," Keller said with a laugh. I went to sleep when we returned to the station. It was 2:30 a.m.
4:37 a.m.
Fire off of I-985
We were out of bed and in the trucks in less than 90 seconds. A fire was reported in the brush along Interstate 985, between Exits 22 and 24. Cash and Stringer fought through the thick briars to the blaze, another "illegal" burn. A nearby resident pleaded ignorance ‹ they usually do, I was told. He had no idea how this conveniently placed pile of tires, trash and twigs caught fire. As the firefighters doused the fire with a garden hose, the man asked them if they'd like a drink. They declined. He later emerged from the mobile home with a 16 ounce bottle of beer.
4:55 a.m.
Car in a ditch
Keller and I rushed from the scene of the fire after another call came in. A car was found in a ditch on East Ridge Road. The medical unit arrived to find sheriff's deputies already on the scene. Paramedics immediately began checking the area with flashlights, looking for blood, bodies, anything. There were none to be found. The car was cold, its radio missing, a beer bottle on its floor. No need for emergency medical workers here. "See y'all at the house," Keller said to the others as we headed off.
6:27 a.m.
Breakfast is served
Station 7 was awake and alive. Some prepared breakfast — coffee, grits and biscuits — while others watched the rebroadcast of SportsCenter on ESPN. After 7 a.m., members of the next shift started to arrive. Another 24 hours was about to begin. It would be more of the same; it would be completely different.