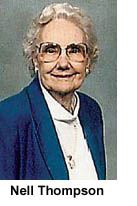 April 13, 2002 — My dear old next door neighbor, Nell Thompson, passed away Sunday. And I didn't even realize it until Wednesday afternoon. I've spent the long hours since trying to figure out how that could happen.
I learned of the sad news while reading the newspaper. I saw Nell's name and face on the obituary page and threw down the paper in disbelief. Then I read further, and I threw down the paper in disgust.
I had missed Nell's funeral. I had been playing basketball instead.
I felt awful. I felt guilty. So I started to write. That's all I knew to do.
Nell and I didn't have much in common when I moved here in the fall of 1998. She was in her 80s, a lifelong resident of Hall County. I was in my mid-20s, a transplant from up north.
But we were neighbors. And in certain parts of the country, that still means something.
It's clear to me now that the neighborly relationship Nell and I shared was an important part of my existence here in Gainesville. It was a constant I could always count on. But I don't think I ever expressed the importance of our friendship to Nell.
Nell, who was 84 when she died following a sudden illness, lived alone in a home on Hillcrest Avenue just a few feet from mine, but our paths didn't cross as often you might think. Journalists and senior citizens don't keep the same hours.
When we did see each other, we'd always stop to chat.
I'd emerge from my house at midday to retrieve the newspaper from my steps and Nell would be raking leaves or pulling weeds — she loved working in her yard, as much as her aged body would allow. Sometimes we'd go to our mailboxes at the same time.
Nell would always wave me over. Nell always wanted to talk.
"How's your mom and them?" she would ask.
We talked about the weather a lot. Nell was always worried that a bad storm was going to knock a tall tree through the roof of her tiny home.
On the surface, our conversations never had much substance. Nell just seemed happy to talk about anything.
Nell said she felt safe with me living next door. And she kept a watchful eye over me, as well. She noticed when my car was gone for long periods of time, and would always call me upon my return.
She'd never leave a message, though. Nell didn't care for answering machines.
Nell liked that I wrote for the newspaper. I interviewed her for a story I did during the ice storm in February 2000. Our street was without power for the better part of a week, and I found Nell wrapped in blankets in front of her gas-powered fireplace sipping coffee she had heated campfire-style in the flames.
The story appeared on the front page. Nell said I made her a celebrity over at the senior center.
Nell seemed to take comfort in the fact that she could see her neighbor's photograph in the paper each week, even if sometimes she couldn't remember what day my Sporting Life column appeared in The Times.
"I haven't seen your picture in the paper the last couple Mondays," Nell said to me last year.
"Nell, my column runs on Tuesdays," I replied.
Nell thought about it. "Always has?"
"Yes."
"Now you're not going to tell me I'm getting old, are you?" she said with a laugh and a pat on my arm.
Yes, Nell was getting old. She liked to remind me of her age and her assorted maladies. But she was very proud that she lived on her own, that she still worked in her yard, that she still drove herself to church and the grocery store.
Every day, Nell walked up and down our street. Doctor's orders.
I saw Nell walking last week. A surgical mask covered her face. I waved from my car. I'm pretty sure she saw me. I'm pretty sure that was the last time I saw her.
Nell rarely asked for help with anything. But when she did, I was happy to do what I could.
I remember last December, she asked me to carry her porcelain Christmas tree from her basement to her living room. She had made the tree several years ago and didn't trust herself with it.
Even for a small gesture like that, Nell was most appreciative. Now, I am left thinking I could have done much more for Nell while she was here.
But Nell was always thankful for anything. She'd often tell me she didn't know what she would do if I ever moved away. Now, I wonder what I am to do now that she is gone.
Nell's car is still parked in front of her house. Her rake is still propped up against the side wall.
I walked outside to fetch my mail Thursday and glanced toward Nell's house. Part of me expected her to emerge from her front door, too.
I waited. But it never happened.