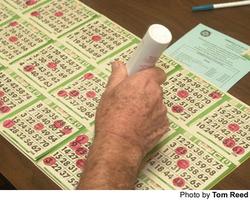 February 28, 2002 — When Bernie Olejnik took his seat behind the Bingo King Autotronic 7600, everybody shut up. Many in the crowd of nearly 100 at the Gainesville Elks Lodge on Sunday had been waiting more than an hour for this moment — waiting patiently for that first bright numbered ball to separate itself from the pack, waiting for the bingo to begin.
They arrive early for a reason, I learned. There are lucky seats to be secured, lucky trinkets to arrange on the table. Bingo players are constantly trying to change the course of chance.
And each game, one or two of them do. There's always a winner in bingo. That's how the game sucks you in.
Olejnik didn't have to call out many numbers for me to remember why as a child I used to spend so much time in the bingo tents at the Bloomsburg Fair back in Pennsylvania.
I used to plunk my quarter down and play, anxious to win something, anything. Perhaps some plastic mixing bowls or a set of steak knives. I rarely had any use for the prizes, but I always found winning to be wonderful.
The bingo cards at the fair were thick and worn on the edges. We used peanuts as markers.
Compared to bingo at the Gainesville Elks, that old set-up seems like, well, peanuts.
Cards are slick sheets of paper and used only once. Plastic bottles full of ink, known as "dobbers," make the marks. Some players even tote their personal dobber collections around in hand-knit carrying cases.
Prizes given away every Sunday at the Elks made the steak knives of my youth seem rather silly.
Nine games pay out $1,100, $600 of which is for a single game known as the "jackpot." The Elks, actually, would like to offer more prize money, but Georgia law won't allow it.
"We can't do near what the Indians can do up in North Carolina," said Ron Harlan, former Elks exalted ruler and current chairman of the bingo committee. "That does cut into our business a bit. The real avid players will go up there."
Still, the Elks take in around $1,500 from bingo each weekend. That's enough to keep several charities happy.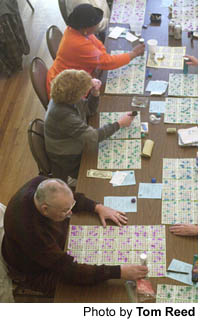 And the stakes are high enough to keep a rather large crowd of regulars coming back each week.
Max and Marion Paton, who raise breeding chickens on their farm in Dawsonville, rarely miss a Sunday afternoon of bingo. Max is 82. Marion is 80. They'll be married 59 years in April.
"Oh yeah, we have a lot of fun," said Max, a World War II veteran. "We enjoy it. This is like entertainment."
"And," Marion offered, "they do as a whole have very nice people here."
Added Max, "You don't get a bunch of fibbers."
The Patons always try to grab the table that straddles the barrier between the smoking and non-smoking rooms. They don't care for the smoke — and there is plenty (you should smell my clothes) — but they also don't like to be out of view of the Bingo King Autotronic 7600, either.
And the Bingo King Autotronic 7600 sits in the smoking room, because that's where most of the bingo players sit. The two habits seem to go hand in hand.
The Bingo King Autotronic 7600 looks like something out of a 1960s sci-fi movie, like one of those handwriting analysis machines you find at local carnivals.
Through the machine's window, you can watch the bingo balls toss about, and get sucked to the top one by one. Where the balls pop out, a video camera awaits. The current ball is broadcast to several televisions positioned throughout the bingo room.
Then Olejnik makes the call. "Next number. Under the 'O.' Sixty-four. That's 'O' six-four." The number lights up on the big board behind Olejnik and the Bingo King Autotronic 7600.
This is definitely not the Bloomsburg Fair.
But the game still plays the same. You still need your numbers to be called. You still need them to occupy the right combination of squares on your card.
They didn't for Max. "I'll be a son of a gun," he said again and again. "They're all in the wrong places."
But they did for Marion. Olejnik called out "I 28" and Marion called out "Bingo!" So did several others. They each won $16.70.
You can tell when a game of bingo is coming to a close. The crowd senses it. With each number called, anticipation grows. You feel your time is running out. There is a murmur. Then there is a winner.
"I get very excited when I win," said Joyce Head, 55, of Murrayville. "It's like a shot. I mean really, it's like one. It is."
Head "gave up smoking and took up bingo" several years ago. One can be as addictive as the other. On Saturday, Head headed up to Rock Hill, S.C., for some high stakes bingo. She didn't win, but said she knows she will again soon. She likes to think of her bingo card as half full, not half empty.
"I go expecting to win," Head said. "I mean you've got to be there. You can't win sitting at home."
How about sitting on a horseshoe? B.T. Hudgins does that.
"Anything to help out," the Gainesville resident said. Hudgins and friend Jean Bachelor also carry around buckeyes in their pockets for luck.
Others will place troll dolls, four-leaf clovers or other knickknacks before them for good fortune. Elephant figurines are supposed to work, too … but only if the trunk is pointing up.
Some feel the only way to increase the chance of winning is to increase the number of bingo cards. I watched one lady play 39 at once. I had enough trouble with six.
Betty Ladewig, a 74-year-old from Murrayville, had 27 cards in front of her and nothing else. She doesn't believe in good luck charms.
And she won one of the $600 prizes last week.
"I think it's all dumb luck," she said. "But I like to gamble."
Perhaps I do, too, Betty. I'd think I got my 10 dollars' worth of excitement on Sunday.
One time I was a "B 2" and a "B 9" from winning $100. I felt a rush overtake my body.
Then again, maybe it was just the cigarette smoke.