February 14, 2002 — "Not again!"
Johnson High sophomore Megan Dunahoo was screaming. She lay on the basketball court clutching her right knee. Yes, Megan, again.
For the second time in less than a year — almost a year to the day, in fact — Dunahoo suffered a season-ending torn anterior cruciate ligament in her knee.
This year, it was her right knee. Last year, it was her left.
This year, it happened Jan. 18 in the second quarter of the Knights' junior varsity game against Fannin County. Last year, it happened Jan. 19 … in the second quarter of the Knights' junior varsity game against Fannin County.
"The second time is a lot more frustrating," said Dunahoo, who was sidelined for six months by her first torn ACL. "Because you think why does it have to happen to you twice. But, I don't know, everything works for a reason in God's plan. I have faith and I know that I'll be OK."
Dunahoo is one of four Johnson players — and one of eight high school girls in Hall County — to tear an ACL this season.
Neither of Dunahoo's ACL injuries was caused by contact. She tore her left while making a cut for a pass. She tore her right while defending on the full-court press.
"As I lunged, I felt it pop the other way," Dunahoo, 16, said.
Already a veteran of torn ACLs, Dunahoo knew that she had just done it again. And she knew well the long road to recovery she was set to travel.
"I'm not dreading it, just cause I've already been through it and I know what to expect," Dunahoo said Feb. 6, five days before her surgery. "I guess I'm ready to get it over with. I'm ready to be off crutches, walking around and doing the rehab and getting back."
Last Saturday, Dunahoo was a member of the sophomore court at Johnson's Sweetheart Dance. She danced on her injured knee — in high heels, no less.
"It didn't hurt," Dunahoo said. Torn ACLs can be deceiving.
All in the family
At 6:45 a.m. Monday — 45 minutes before Dunahoo's surgery — Emory Dunahoo Jr. was at his daughter's bedside at the HealthSouth Gainesville Surgery Center. He knows a thing or two about bad knees.
Emory has had four knee surgeries and is awaiting a fifth, a total knee replacement. He blew out his left knee playing football for North Hall High in 1973. He's been paying for it ever since.
"I tore the ACL, the PCL (posterior cruciate ligament), everything in it," said Emory, who can barely bend his left leg. "Megan might decide to play next year, she might not. But 30 years from now, I don't want hers to be like mine where it hurts all the time."
The eldest Dunahoo daughter Lindsey, 18, has had her knee scoped, as well. Fourteen-year-old Josh, the youngest Dunahoo and a football player, has been surgery-free so far.
"Some of it is definitely genetic," Dunahoo's orthopedic surgeon, Robert Jennings Jr. of Gainesville, said. "Whether it is genetic as far as the way that they move or genetic as far as the way the knee is built and the ligament composition, I don't know."
Jennings, 40, is a Gainesville High graduate who studied at Duke University, the University of Virginia, the University of Wisconsin, and the American Sports Medicine Institute in Birmingham, Ala. He returned home to practice medicine and is now one of the area's most respected surgeons.
He repaired more than 70 torn ACLs last year alone.
"We've done enough of them that it's pretty routine for us," Jennings said. "A lot of it is avoiding pitfalls. You never know exactly what you're going to find until you look in the knee."
Jennings was looking inside Dunahoo's knee by 7:57 a.m. He had her sewn back up in less than an hour.
Aside from its torn ACL, Dunahoo's right knee had no other damage. Last year, Dunahoo's left knee also had a tear in the meniscus, which makes for a more complicated procedure.
Twenty minutes before Jennings made his first incision, Dunahoo was anesthetized. Her body was totally covered with sheets and blankets except for her right leg, which had a tourniquet wrapped tight around its thigh.
Dunahoo's face was covered with plastic. Her eyes were taped shut. She had a tube in her mouth to help her breath.
She had drugs in her body to keep her asleep, other drugs to numb the pain, and still more drugs to fight off the nausea that the pain-killers might bring on. The constant beep that filled the room told everybody that Dunahoo was doing just fine.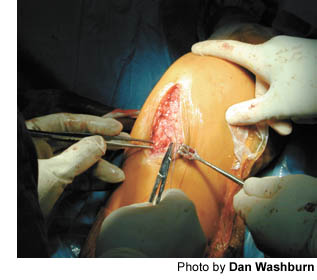 The entire surgery was set to the blues, which played through a stereo against the wall.
Surgical technicians scrubbed Dunahoo's right leg clean and then wrapped it in a sterilizing betadine-treated plastic sleeve. She was ready for surgery.
Slice, scrape, drill
The entire ACL reconstruction can be done through one incision several inches long beneath the kneecap.
First, the central third of the patient's patellar tendon is harvested. That is what is used to replace the torn ACL.
The work area — the inside of the patient's knee — is then cleared of debris. The damaged ACL, and excess tissue fiber and cartilage, are scraped and burned away.
Then, holes are drilled in the tibia and femur bones. Those holes later house the reconstructed tendon, which is held in place with bioabsorbable screws.
The harvesting of the patellar tendon — which involves tools that look, and sound, like everyday hand drills, hammers and chisels — can get bloody, even with the tourniquet. Tiny bits of body go flying.
Once the slice of Dunahoo's tendon was removed, it was placed on a sterile table behind Jennings and looked similar to a chunk of fat that might end up on your butcher's floor.
Jennings conducted a good portion of the remainder of the procedure looking at a TV screen. Cameras at the end of his tools showed what he was doing and where he was doing it. With the room dark, the light at the end of the camera made Dunahoo's knee glow like a Christmas bulb.
"Here's the meniscus," Jennings said. "That's the torn ACL right there. There's another stump over there."
To the untrained eye, the images on the screen could just as well have been coming from a far-off planet or deep beneath the sea.
Much of what Jennings does, in fact, is underwater. Saline constantly pumps through the patient's body to irrigate the surgery area. At times, the clear liquid squirted out of the hole in Dunahoo's knee.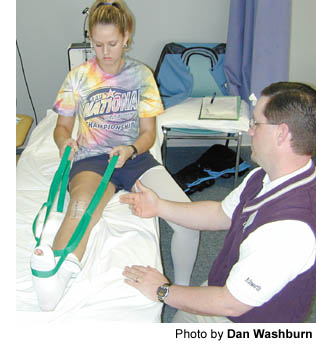 By the end of the surgery, Jennings was standing in a pink puddle on the floor. The room smelled of blood.
"That's why we wear waders," Jennings said.
Most of the workers in the surgery room wore plastic boots. Masks that cover noses and mouths are mandatory. You learn to recognize people by their eyes.
The insertion of the new tendon was ingenious. The harvested patellar tendon was tied to the end of a thin metal rod. The rod was inserted upward through the holes drilled in the tibia and femur. The rod was then pulled through a tiny hole in the bottom of Dunahoo's thigh, leaving the tendon in its new place.
It was like restringing a pair of sweatpants.
The entire surgery was complete in 53 minutes. Then the surgery room was wiped clean, and Jennings was off to do another operation.
"Hey Megan, open your eyes," anesthesiologist Bil Ragen said. "The operation is over with. You did real well."
Yes, the operation was over, but Dunahoo's struggle to strengthen her reconstructed leg was just beginning.
"She's a hard worker," Emory said while his daughter slept at the surgery center (that's what she did most of Monday). "She'll do everything she needs to do to get back."
And, sure enough, Dunahoo started her painful rehabilitation Wednesday at Pro Therapy in Oakwood while her mother Elaine looked on. Dunahoo wants to be better in time to play soccer this summer.
"I'm ready for the rehab," Dunahoo said. "I don't want to just sit here."
First thing's first, though. Dunahoo — now with a scar on her right knee to match the one on her left — must learn how to walk again.