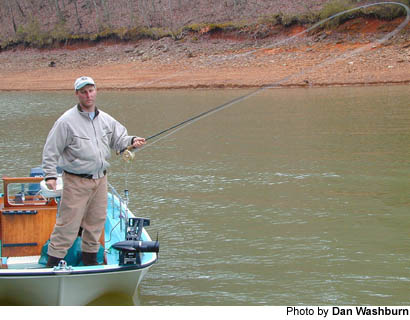 April 3, 2001 — Think good thoughts. And set your alarm for 5 a.m.
That's what Henry Cowen's father would say to him the night before a fishing trip.
But, like clockwork, little Henry would be up and ready to go by 3 a.m.
"Now I'm 42, taking people out fishing," Cowen said Friday on Lake Lanier from behind the wheel of his 1965 "classic" Boston Whaler, "and I still wake up at 3 o'clock as excited for them as I was when I was a little kid.
"I swear to you. It's the craziest thing."
So Cowen had already been awake for hours when I met him on the docks in the dark at 5:45 a.m. He was armed with a thermos of coffee, a sack of Krispy Kreme doughnuts and an arsenal of fly-fishing rods.
That's right, fly rods. Cowen is a rarity. He's a Jewish fishing guide with a Brooklyn accent living in Northeast Georgia. And he fishes solely for stripers, never with anything but a fly rod.
"When I came down here, there was me and one other guy doing it," said Cowen, who moved to Gainesville four years ago. "Now there are dozens. Four years ago, people would see you with a fly rod and they'd say, 'There's no trout in this lake. What are you doing here?'"
Cowen hears that question less and less as more and more anglers watch him fight striper after striper onto his boat. Cowen cut his teeth fishing for stripers in the Atlantic Ocean.
On Lanier, it's saltwater fishing without the salt.
"I like the challenge more than anything," Cowen said. "I think anybody can go catch a fish with some real bait or a plastic lure on the end of their line. But to take a bare hook, some feathers and some fur and create what is supposed to be the food source, you're really catching fish in its most natural form."
I documented Cowen's fly-tying expertise back in February. Now it was time for us to put Cowen's creations to use on Lanier. Cowen's Coyotes — dead ringers for thread fin shad, the main food source for Lanier's stripers — were tied to our lines.
I had the rod, the reel, the custom-made fly. Now all I needed was a lesson in casting.
"It's going to seem frustrating at first," Cowen warned.
And he was right. Fly fishing for stripers in a lake is much different than fly fishing for trout in a stream. Stripers tend to be spooked by boats, so long casts — of about 50 feet or so — are a necessity. That's a lot of line.
So the false cast becomes your friend. The rod takes on a little more line with each one.
The wrist remains locked, the rod tip pointed upward. The forearm and shoulder produce the power.
The body rotates back and forth. Slow and steady. The line grows and grows.
Once the rod is loaded, and you've got your rhythm down, you're ready to release and send your fly flying.
Putting proper technique onto paper is one thing. Putting it into practice is another.
The morning fog rolled out and the Canada geese rolled in. The lake was awake. And Cowen was still trying to teach me how to cast.
I picked it up in bits and pieces. But inevitably something would go awry. Like I'd realize I was standing on my line, or I'd wrap my cast around Cowen's trolling motor.
But at 7:30 a.m. — roughly an hour after we started — it all seemed to come together. I was "feeling it," Cowen said.
"That was really good," Cowen said. "I was worried at first, Dan. But now I'm getting ready to eat my first doughnut. And that's a good sign."
We left our spot north of Brown's Bridge and headed to a cove near Holly Park.
"Another morning of bliss," Cowen sighed as he started up the motor. And we sped off.
As our boat settled into its new locale, the water splashed behind us. A ripple remained on the surface.
"That was a striper, by the way," Cowen said with a smile.
Cowen had hooked two spotted bass earlier in the morning — "incidental," he called them — but on his first cast in the cove something bigger bit his line. He handed me his rod.
"I want you to feel this," he said.
Stripers are fighters, and that's why they are so popular. They run and dog you until you have them in your boat. Cowen compared the fish's pull to that of a pickup truck. I haven't landed any Chevy S-10s lately, but I'll take his word for it.
And the fly rod makes the fight twice as tough.
"Hey Buddy, I've got a load of fish under the boat right here," Cowen spoke into his radio. "Come here and fish behind my boat."
Within minutes, we had company in our cove.
"Three boats in a cove and all of them are fly fishing," Cowen beamed. "That's a good thing. That's a real good thing."
These fly fishermen stick together. They communicate constantly, letting the others know where fish are biting and where they aren't. They speak in codes, too. They have assigned numbers to various locations on the lake, and that's how they identify them over the radio.
Cowen caught his second striper, a 7-pounder, just 15 minutes after the first one. And just like every fish Cowen catches, he released it back into the water right away.
Cowen caught a limit's worth of spotted bass the rest of the morning, but no more stripers. I didn't catch a thing.
But I found a certain peace in the process. I fell in love with the false cast — watching the line unfold before me, then behind me.
Back and forth. Back and forth.
It's a metronome for the soul.