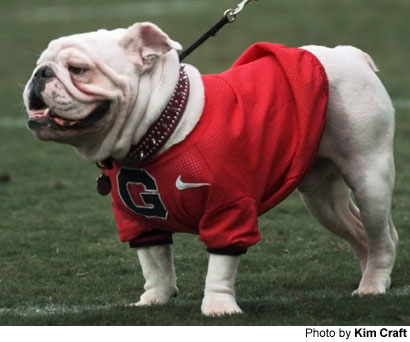 November 28, 2000 — My first glimpse of football royalty came through the foggy rear window of a red station wagon. I pressed my face to the wet glass and peered in. His Majesty — the most celebrated sports mascot in the nation — was sleeping.
But this dog's catnap would not last long. The people would soon come calling. They always do.
It was not yet 10 a.m., more than two hours before kickoff of the annual Georgia-Georgia Tech grudge match, and the car with the Chatham County plate reading "UGA VI" was already drawing quite a bit of attention. It always does.
"Is he in there?" one Georgia fan, a grown man, asked, rubbing the dew off the tainted glass to get a better look. "We've got to have him ready today."
The white English bulldog known as UGA VI (pronounced ugg-uh) was ready, his owners assured me. He always is.
"He's pretty hyper today," said Swann Seiler, 44, eldest daughter of Sonny Seiler, owner of the school's line of Bulldog mascots since 1956. "Today, he ate two shampoos, and he grabbed my coat and ran with it."
"So he knows it's a big game?" I asked.
"Oh, it's instinctive."
But UGA's game-day schedule was a bit out of whack last week. The Thanksgiving holiday and Saturday's unusually early noon start time saw to that.
Normally, he'd make the trip to Athens from his home in Savannah on Friday, and spend the night in his room at the Georgia Center for Continuing Education. The next day would be a whirl of photo opportunities and guest appearances, as many university-related events as he can cram into his busy schedule before the game.
UGA spent this game-day eve at the veterinary school, so he didn't even get to eat the steak that fans leave outside his hotel room every Friday evening. The meat sat untouched all night and had to be thrown away in the morning.
"Not that he's not a gamer; he'd eat it," quipped Charles Seiler, 40, Sonny's only son and UGA's on-field handler since he was 12 years old.
There are some pregame traditions, however, that never change.
Like UGA's parking spot under the bridge behind the west end zone of Sanford Stadium. It's marked by a white barricade that reads "Georgia Mascot."
Or the carnations that Sonny and Swann place on the graves of two former Bulldog mascots prior to every home game. Georgia is the only major college that actually buries it mascots within the confines of its stadium.
Flowers went to UGAs I and III on Saturday.
"I chose UGA I," Swann explained, "because I felt with the Tech game we needed the whole sense of tradition."
And what a tradition it is. It all started as a fraternity prank, Sonny admitted. And now, with each new UGA, the legend grows. The dog has engendered an almost monarchial devotion among Georgia fans — and a fond fascination throughout the rest of America.
"The nation didn't pay any attention to the dog until the '80s," Sonny said. "That's when TV took over college football."
And that also happened to be perhaps the best decade in Georgia football history: one national championship, three SEC titles and one Heisman Trophy for Herschel Walker.
"People started to identify with UGA as much as, if not more than, the team," Sonny said. "I didn't think any of that would happen. Now it's gotten to where the dog really runs our lives."
UGA IV was the first mascot ever invited to the Heisman Banquet, and donned a black tie to go with game jersey to watch Herschel win the award.
In 1997, UGA V graced the cover of Sports Illustrated — the magazine named him the nation's best college mascot — and appeared in the Clint Eastwood film "Midnight in the Garden of Good and Evil."
One of his co-stars? His owner, the real-life defense attorney featured in the book on which the movie was based. Sonny, now in his 60s, has evolved into quite the character actor, with bit roles in the Savannah-based movies "The Gingerbread Man," "Midnight," and most recently "The Legend of Bagger Vance."
Prior to the Tech game, Sonny made an appearance on Loran Smith's radio show. He also signed a few autographs.
But there's no questioning whom the fans were there to see.
"It's the dog, man," Sonny deflected. "They don't know me."
And as game time grew nearer, the crowd grew bigger and bigger around the UGA VI station wagon. Occasionally, one of the Seilers would open the rear window and the crowd would giggle and gasp. It was a celebrity sighting.
"Man I wish I had my camera. Gol-ly," sighed Bill Kincaid, of Charlotte, who brought his 9-year-old son John to see the game — or to see UGA, I wasn't sure. "What do you think, John? Is that cool? You want to call mom and tell her?"
At 11:35 a.m., 25 minutes to kickoff, the crowd was at its largest. Charles opened the car's rear door and let UGA out of his cage. From a bag, he produced one of UGA's jerseys — they're custom made, the same material as the players' — and UGA walked right through the neck hole.
Cameras flashed. People petted and posed, posed and petted. Cameras flashed again.
"Beautiful dog," more than one person exclaimed.
Damn good dog, the cheer used to go. Damn big dog, might be the new cheer soon.
With broad shoulders and a head the size of a basketball, VI is the biggest of the UGA bunch. He weighs 58.5 pounds, 14 pounds more than his father UGA V — and he's not yet 2 years old.
UGA began to strut his way through the crowd, and all eyes, all cameras followed. Fans whistled and smacked their lips. They wanted the dog to look their way.
Sometimes UGA would oblige. He'd shift his droopy eyes upward, and jut his bottom jaw outward. His two incisors would slide in front of the furry folds of flesh that cover most of his face. The crowd loved this, and he knew it.
The adoration continued inside the stadium. Players rubbed UGA's head as they entered the locker room before the game. And the crowd roared as Charles and UGA led the team back onto the field.
A cheerleader walked UGA to his climate-controlled dog house in front of the seats that house the student body. The dog jumped right on top of his giant ice bag, even though the weather outside was cold enough that UGA could see his own breath.
"It's like a pacifier," Charles said as UGA ripped through the plastic bag and began to gnaw on cubes of ice.
The photo requests began right away. Since the famed hedges were torn down during the celebration that followed Georgia's victory over Tennessee earlier in the season, no buffer exists between dog and dog lovers. The UGA-razzi clicked away.
"Let's face it," Charles said. "Some people aren't here for football."
But that is why there are mascots, and that is why no photo request goes unfulfilled.
A steady stream of people — cheerleaders, band members and state troopers included — knelt next to the dog and smiled for the camera. UGA didn't always cooperate, choosing instead to chomp on whatever hand was closest.
He is still a puppy, after all.
And watch out if big Hairy Dawg, Georgia's human mascot, walks by. Turns out his uniform can't be washed and its stench stirs something within UGA. He'll leap up after the beast suddenly, often catching Charles off guard.
At halftime, we met Sonny outside the locker room. A golf cart whisked us away to the luxury suites high atop Sanford Stadium. Charles stayed behind — to rest, I suppose.
As we exited the elevator and entered the hallway, people pressed their backs up against the wall to let UGA through. "Hello, Mr. Seiler. Hello, UGA," they would say. And then we'd be ushered into one of the alumni boxes.
Nothing like a cute dog to brighten a room, and lighten the heavy load of a 27-3 halftime deficit. The space around UGA filled with people quickly. Everyone wanted their picture taken with the dog.
He was like Santa Claus at the Mall of Georgia.
We were back on the sidelines before the second half began. From the stands, some rowdy fraternity members screamed "UGA!" and barked uncontrollably.
As Georgia's prospects grew grimmer and grimmer, Charles and Sonny grew less and less talkative.
"They're very serious on game day," Swann warned me earlier.
And so UGA and I watched the seconds tick away together in silence. And when they did, we all walked briskly back to the red station wagon.
UGA got back in his car, ready to go home with his family. Yep, UGA's a mere house pet after all the people go away. Well, he's a really famous house pet — who receives tons of fan mail and has his own car.
"So what does he do now?" I asked Sonny.
"He goes home and sleeps. He's tired," Sonny replied. "And me? I go home and wait until the next game."