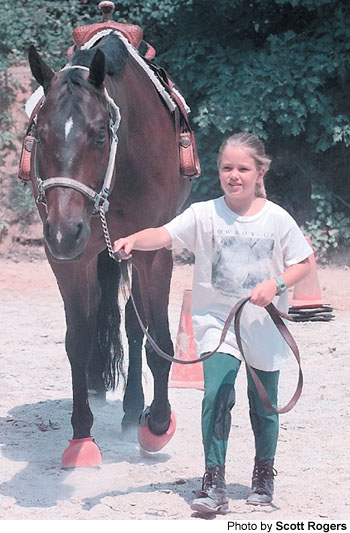 September 12, 2000 — This is a story about a little girl and a horse. Two horses, actually.
One helped the girl win a state championship earlier this month. And the other one helped make it all possible.
This is a story about Honey Beth, Hunker and Godfather II.
Godfather II will always be 8-year-old Honey Beth Campbell's "magic horse."
"That's the one that can climb mountains, and can fly," explained Honey Beth's grandmother Dodie Ellison, herself an award-winning horseback rider.
Godfather II was Honey Beth's first horse, and today remains her favorite horse. Probably always will.
Dodie, the self-proclaimed "bleeding heart of the world," bought Godfather II three years ago. He was 24 years old, and looked as if he was about to starve to death out in the pasture.
Dodie had no grand intentions for Godfather II. She simply wanted to save the horse, and provide her granddaughter with a horse to ride. She got much more than that.
"We had no idea he was an old champion," Dodie said, pulling into the driveway of her North Hall County home. "We had no idea they were going to fall in love. We had no idea he would take her to the state championships.
"When you see him, you'll understand."
I'm not sure how he got his name, but Godfather II's face has all the weathered grit of Al Pacino's. And the sag in his back, which takes a dramatic dip downward, looks as though it could have been caused by Marlon Brando's generous posterior itself.
Forced movie references aside, Godfather II is one unique horse.
"I like him very, very, very, very much," said Honey Beth, a third grader at Mount Vernon Elementary. "I like that he's very nice and that he has a sway back. He's very, very nice."
That's a lot of verys. But it's obvious that the feeling is mutual. Godfather II's eyes, growing blinder every day, light up when Honey Beth walks near. Perhaps she is his "magic girl."
Last year, to everyone's surprise, Honey Beth and Godfather II qualified to ride in the Georgia Federated Horse Show Championships in Perry. Not bad for a 7-year-old girl on the sway back of a 26-year-old horse. They didn't win, but who cares?
Godfather II's age caught up with him this year. Maybe it was his failing eyes. Maybe it was his aching back. He just couldn't practice and perform any more. So in March, Hunker was purchased.
Hunker stands tall and strong. His long tail hangs down to the ground. Perhaps this is how Godfather II looked in his youth.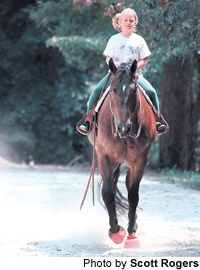 "He turned 13 in May," Honey Beth told me.
"She knows all the dates," Dodie said. "We have birthday parties and everything."
Dodie, too, fell in love with horses at a young age. She and her family moved from New York to the Dominican Republic when she was 6. She spent her formative years living wild and free on an island sugar plantation.
"I was gone on my horse morning, noon and night," Dodie remembered.
Now she lives in an underground house in Georgia. That's right, underground.
As we walked from her stable to the practice ring, she pointed to a patch of grass.
"That's the roof," she said matter-of-factly. "We have to mow it."
Just beyond the grass roof is where Honey Beth and Hunker demonstrated the basics of competitive Western horseback riding to me. There are showmanship, horsemanship, pleasure and trail maneuvers. Each is designed to exhibit particular skills of both rider and horse.
That's the tricky part. There are two athletes here: human and horse. Both must peak simultaneously.
"He's watching," Honey called out from atop Hunker. She sported a wide smile.
And, sure enough, he was. Godfather II peered out at us from behind a wooden fence near the stable. He was checking on his little friend. He does this often, I was told.
I played judge for Honey Beth as she paraded Hunker before me in various patterns. For this maneuver — showmanship — she walked beside the horse and kept her head held high. Attitude is almost as important as aptitude.
"Walk with purpose, Dan!" Dodie yelled when it was my turn.
For the rest of the lesson, the riding part, we traveled to Gloria Syfan's Three S Farms in East Hall. In case you didn't know, Northeast Georgia is blessed with an abundance of horse farms. It's a huge industry here, more than enough to support the area's six full-time veterinarians that cater solely to horses, Dodie added.
At Gloria's farm, I rode Elwood, a professionally-trained horse that likely cost more than most people's homes. You get what you pay for, I suppose. I think ol' Elwood made me look pretty good.
If you want him to go, a kiss or cluck sound does the trick. "Whoa" is the only break pedal you need.
If you want him to change his pace — or even move sideways or backward — a slight tug on the reins, a squeeze from your leg, or a shift in your weight gets the job done.
We walked, jogged and loped (kind of a three-beat skip). We completed patterns and maneuvered through "trails" of wooden obstacles. Elwood did all of the work. I just looked straight ahead — and rode "with purpose."
"You did very good," Honey Beth said to me.
A nice compliment, especially coming from a state champion. Yep, that following Saturday, Honey Beth and Hunker took home top prize in horsemanship down in Perry.
And Honey Beth told the judge, "This one's for Godfather II."