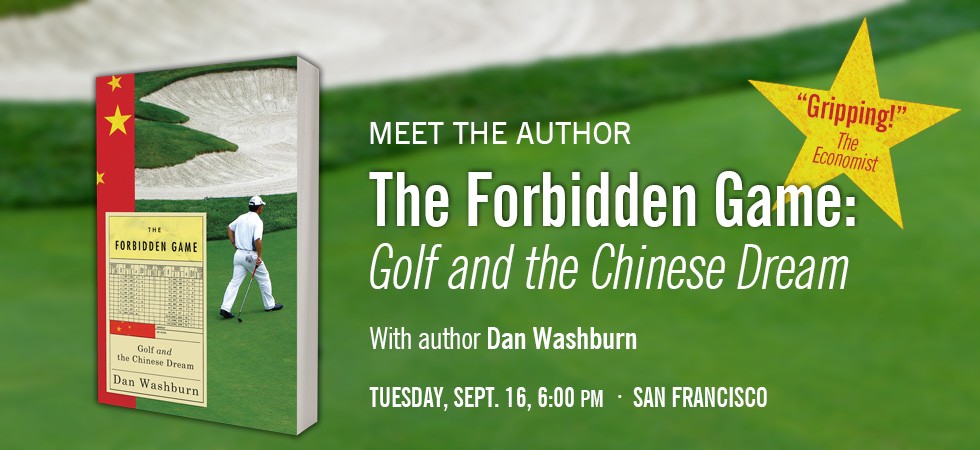 San Francisco, CA
Tuesday, September 16, 2014, 6:00 PM
Nixon Peabody LLP
1 Embarcadero Center, Suite 1800, San Francisco, CA

Asia Society Northern California and Nixon Peabody are pleased to host award-winning journalist Dan Washburn for a discussion of Washburn's new book, The Forbidden Game: Golf and the Chinese Dream, which uses the politically taboo topic of golf to paint what critics are calling "an illuminating portrait of modern China." The Forbidden Game follows the lives of three men intimately involved in China's bizarre golf scene, where new golf courses are at once banned and booming. Washburn, who lived in China from 2002 to 2011, spent more than seven years researching and writing the book described as "strikingly original" by The Wall Street Journal and "gripping" by The Economist. The discussion will be moderated by Nixon Peabody partner, Fredric C. Nelson.
Dan Washburn is an award-winning reporter and managing editor at the Asia Society. His writing has appeared in FT Weekend Magazine, Slate, Foreign Policy, The Atlantic, The Economist, Golf World, Golf Digest, ESPN.com, the South China Morning Post, and other publications. His work has been featured in the anthologies Unsavory Elements: Stories of Foreigners on the Loose in China and Inside the Ropes: Sportswriters Get Their Game On. Washburn is also the founding editor of Shanghaiist.com, one of the most widely read English-language websites about China.
Fredric Nelson is a commercial litigation partner in Nixon Peabody's San Francisco office and is the co-chair of the firm's antitrust team. He was formerly General Counsel, member of the Executive Committee, and Treasurer of the United States Golf Association.
The Forbidden Game: Golf and the Chinese Dream will be available for purchase and signing.