By Dan Washburn
The Times
Rivers. Mountains. Lakes. North Georgia's wide open spaces are attracting more outdoors enthusiasts each year.

But those wide open spaces — and the public's access to them — are quickly fading away. Development and demand are seeing to that.

The Georgia Mountains Regional Development Center projects the population of its 13 counties — 450,143 in 1999 — to more than double to 911,610 by 2020. Couple that with the 64 percent increase nationally in outdoor recreation the U.S. Forest Service expects over the next 45 years, a trend mirrored in this region, and the conflict becomes clear.

More people. Less open land. Two intrinsically American values — the inalienable rights of private landowners and the natural rights of people to recreate on public land — are clashing.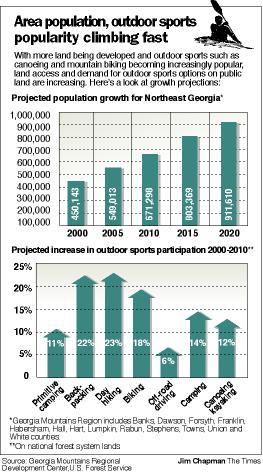 "It's a huge issue now and it will grow," said Risa Shimoda Callaway, a director of American Whitewater, a national nonprofit organization dedicated to conservation and access issues.
"As people become more mobile, as people have more resources to travel, as people are more aware of enjoying natural resources that are out of urban and suburban areas, and as contractors, developers and private citizens continue to purchase and develop land, access becomes an issue."
The conflict in North Georgia is a confusing amalgam of the old and the new, of state and federal laws, of mountains and streams. Its cast of characters includes landowners and land managers, bureaucrats and businessmen, environmentalists and adventure seekers — and lawyers, plenty of lawyers.
And much of it involves a splitting of legal and philosophical hairs that would make Mother Nature and Uncle Sam cringe.
Nowhere has this tug-of-war played out more dramatically than on Georgia's rivers and streams, where the dispute over what is public and what is private is as murky as the Chattahoochee River after a hard rain.
"The property lines go to the middle of the river bed," said Dave Gale, owner of Wildwood Outfitters in Helen — who was allegedly shot at by an angry landowner as he canoed the Chattahoochee in the early 1980s. "The question is: Who owns the water?"
The answer depends on whom you ask.
Fred Lovell doesn't allow people to paddle or float down the two-mile stretch of the Soquee River that flows through his land in Habersham County.
"I don't claim I own the water," Lovell said. "But if I didn't own the bottom of the river, the water wouldn't run through it. God Almighty I'd say probably may own the water. But while it's on me, I feel like it's mine."
Georgia law says the owner of land on both sides of a "non-navigable stream" also owns the stream. Now, the definition of what is navigable is where the water begins to muddy. In 1997, a state court interpreted Georgia's 1863 navigability law to define a navigable waterway as one that can handle heavy barge traffic.
"Nobody even heard of recreation, much less recreational canoeing, back in 1863," said Dan MacIntyre, an Atlanta business lawyer and paddler who began doing free legal work for paddler rights 10 years ago.
For MacIntyre, the 1997 reading was "the ultimate horrific extension of where we are and the ultimate worst-case scenario. ... One person that owns an inch of land on either side of the river is all it takes. And they can close any river in the state that's not navigable by heavy barge traffic."
The Georgia definition of navigability is more restrictive than federal law. Thus, Georgia paddlers and anglers typically fare better when their river passage cases are heard in federal court, which is where the state's only ongoing river passage case — the much-publicized dispute on the West Fork of the Chattooga River in Rabun County — has been for the past two years.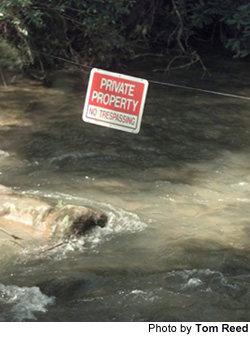 "I think the Georgia courts are primed to hold that the federal definition preempts the state definition, certainly the federal courts have held that," said Atlanta attorney Michael Terry, a longtime advocate for the right of public passage.
A settlement in the West Fork case — where owners of private land surrounded by the 750,000-acre Chattahoochee National Forest attempted to prohibit the public from floating the river — may be near. On April 6, the 230-acre tract was purchased by someone who may be friendly to the paddlers' cause. The new owner, Robert Reid, is president and co-owner of WaterMark, an Atlanta-based company that owns Perception Inc. and Dagger Canoe Co., two of the leading manufacturers in the paddle sports industry.
Getting to the water an issue for paddlers, anglers alike
Being able to float or fish a river means nothing if access to the water is blocked. Since much of the land along streams is privately owned in North Georgia, paddlers and anglers often find themselves precariously scaling rocky slopes beside highway bridges — sometimes the only sure point of public access.
"I don't see no harm you can do to ... land if you're just trying to get to a stream," said G.W. Peeples, of Gainesville, who often fishes for trout on the Chattahoochee River near Helen. "They shouldn't mind nobody just walking or something like that ... but it's their property, so if they don't want you on it, I guess you got no reason to be on it."
Few, if any, would argue the right of property owners to keep their land private. According to law, however, those property owners along "non-navigable streams" also are afforded exclusive fishing rights. That's the case even for state-stocked fish, as when the Georgia Department of Natural Resources stocks trout in public streams and the fish swim into private sections of the waterway.
"The access has always been at the discretion of the land owner," said Jeff Durniak, DNR regional fisheries supervisor for Northeast Georgia. "But with North Georgia developing, a lot of those tracks of land have been subdivided and it's a lot more difficult ... to get permission from 10 people rather than one.
"We need to remember what a treasure we have in the Chattahoochee National Forest," Durniak added, speaking of the 750,000 acres of public land stretching across North Georgia. "So we will always have fishing in the mountains. These larger rivers, I really don't know the answer there, because the law is the law and right now private property rights do reign supreme."
Some paddlers are calling for a statewide public canoe trail system similar to Florida's, which includes more than 30 waterways with public access points. DNR officials say such a plan wouldn't fit into the department's current budget.
"I don't have any particular reason to expect that amounts of money are suddenly going to appear from nowhere for canoe access," said Harvey Young, DNR executive assistant for program coordination. "If the canoe crowd can muster strong public support for what they want to do, then something might be made to happen."
However, the DNR, with the help of conservation groups like the Trust for Public Land, is working to secure land along the Chattahoochee. Thus far, 109 miles have been protected.
Rand Wentworth, director of the Trust's Georgia office, said his organization is also very interested in working with the DNR and the Georgia Canoeing Association to pursue a water-trail concept.
Reid has said he believes the public should have the right to float and fish the West Fork and that he has no plans to develop the land.
Landowners stress cleanliness, stream care
Only a handful of Georgia landowners have closed rivers, either by posting signs, stringing cables across the water or guarding the banks themselves. The fact that more could do the same angers many paddlers.

"How could somebody feel like they own a river?" asked Gainesville kayaker Gary Gaines. "They shouldn't be able to stop people from recreational use of the Chattahoochee or any other river in North Georgia."

As more riverfront land is developed, the chance for conflict increases.

"If the damn paddlers want to canoe, they ought to get out and buy them a piece to canoe on," said Lovell, whose late brother Earl was a landowner in the West Fork of the Chattooga case.

Lovell says his major gripe against paddlers and floaters involves cleanliness. The garbage and human waste he feels would accompany the river traffic — he points to the Chattahoochee near Helen as an example — would ruin the trout stream he has cared for over the past 40 years. That's why he cabled off his section of the Soquee nearly 20 years ago.

David Dockery, co-owner of Unicoi Outfitters, which has offered trophy catch-and-release trout fishing along a 1.5-mile private stretch of the Chattahoochee south of Helen for more than two years, says a truck-load of trash is removed from Unicoi's waters each week during tubing season.

"We really challenge people to look at the way we care for the river through that mile-and-a-half and compare that to the mile-and-a-half that is publicly accessible above us," said Dockery. "There's really no comparison."

MacIntyre pointed out that the Georgia Canoeing Association organizes dozens of river clean-ups each year.

"It may be we're going to spend a lot of time in federal court the next 20 or 30 years deciding this river by river," he said. "That's not something I look forward to. I'd much rather be out there paddling."
Recreation limits fuel debate in state parks
Away from the water, where the line between public and private is less blurred, conflicts arise over what forms of outdoor recreation are allowed on public lands.

For example, Tallulah Gorge State Park is the only state park that allows rock climbing, a sport whose enthusiasts are still reeling from the 1995 closure of the private road to Yonah Mountain, then one of the state's most popular climbing areas.

Tallulah Gorge, in Tallulah Falls, also offers mountain biking, hiking and whitewater paddling. Park manager Bill Tanner says one reason Tallulah is on the cutting edge in outdoor offerings is because the park, established in 1993, is relatively new.

"We had a certain amount of time that we could really thoughtfully, and in some cases scientifically, look at what we had and develop our management plan, rather than being forced to do it really quickly or to immediately adopt an existing management plan," Tanner said.

Bureaucracy, he said, can make it difficult to change management plans designed for a different era.

Many climbers say Cloudland Canyon State Park on the western edge of Lookout Mountain would offer some of the state's best climbing. But climbing isn't allowed.

"We just follow what our department tells us," park manager Stanley Hammock said.

Chris Watford, southeastern representative of the Access Fund, a national climber's advocacy group, hopes to parlay the success of climbing at Tallulah Gorge into access at Cloudland Canyon. He realizes it may not be easy.

"I think sometimes (the parks') reaction is to curtail activities instead of managing it," Watford said. "If you don't have any budget, the easiest thing for you to do is to eliminate (the activity)."
Liability aside, stewardship is crucial
Public and private landowners also raise concerns about liability.
But is a landowner liable? According to Allen Padgett, manager of the state's Crockford-Pigeon Mountain Wildlife Management Area, the answer is no. Georgia's little-known recreational liability law provides immunity for landowners who allow recreational use of their land for free.
The climbing walls at Crockford-Pigeon, near Lafayette, attract thousands annually.
"Because we allow folks to go rock climbing and we don't charge them anything to do that, if they want to sue us, have at it," Padgett said. "God made the cliff and God made gravity."
But does God stop frivolous lawsuits?
The Southeastern Cave Conservancy has begun leasing or buying caves and assuming all liability involved in their use.
"It gives the (landowner) a multi-million dollar liability backup policy that covers them in case somebody manages to try to sue," said conservancy member Chris Hall, a caver from Buford. "Just because they can't win doesn't mean it can't cost you a lot on lawyer fees, and that's what we negate."
Often, it's not a question of liability, Hall added: "It's more a question of they don't want them long-haired hippie people out there."
Padgett said groups trying to gain access can help their cause by educating land administrators about their activities, being sensitive to environmental concerns and showing a willingness to work with managers.
Dedication to stewardship is working for mountain bikers, according Tom Sauret, executive director of the Southern Off-Road Bicycle Association. SORBA has built relationships with federal, state and local public land managers throughout the Southeast, said Sauret, an English professor at Gainesville College in Oakwood.
"We don't just walk in and use it and leave it," he said. "The U.S. Forest Service has told us that we ... put more hours of working in the forest than any other user group."
The give-and-take is necessary, Padgett said.
"It's a privilege, not a right," he said. "The Constitution doesn't say nothing about rock climbing."
See also:
Climbers clamor for access to Yonah Mountain's facade
Atlanta man buys 230-acre West Fork of the Chattooga River tract
Off-road vehicle enthusiasts look for room to rev engines
Despite support, skate park plan still stalled


Dan Washburn is a sports writer for The Times in Gainesville, Ga.
Copyright © 2000 by The Times